Life – An Exalted Destiny – Aga Khan III
Beyond Polemics and Pluralism: The Universal Message of the Qur'an[1]
— Reza Shah-Kazemi
Editor's Note: It was a delight to hear Dr. Shah-Kazemi's lecture on the subject in person yesterday. Please view my picture with him below! Yay! My sincere thanks to Dr. Shah-Kazemi for providing this article and I am honored to present it on the Ismaili Web. Alhamduli'Llah! Please also view video of this presentation made in June 2014 at the end of this article and I just added his presentation at FIU on March 31, 2015. Thank you!

♥
And they say: None entereth Paradise unless he be a Jew or a Christian. These are their vain desires. Say: Bring your proof if ye are truthful.
Nay, but whosoever submitteth his purpose to God, and he is… Continue reading →
Speech by Prince Aly Khan in 1951
Lecture by His Serene Highness Prince Aly Khan under the chairmanship of His Worship the Major, councillor Abdulkarim M.L.C., Vice – President of the Dar es Salaam Cultural Society.
30 January 1951
It is indeed ironical that here, in Dar es Salaam, "Haven of peace," I must speak of war.
That I may speak of war and yet hold bright hopes for peace is due to my strong conviction that growing strength of the Mohamedan world, is staunchly united with Christianity in defence of freedom, may yet prevent, or if not prevent, bring to a victorious conclusion, any war which might be imposed upon us.
The Mohamedan world, the Middle East and Pakistan, is, I submit the hub of the free world's… Continue reading →
Interview – The Forgotten Children of Abraham
by Katherine Schimmel Baki
Calligraphy above — Quran 16:125
ادْعُ إِلَىٰ سَبِيلِ رَبِّكَ بِالْحِكْمَةِ وَالْمَوْعِظَةِ الْحَسَنَةِ ۖ وَجَادِلْهُم بِالَّتِي هِيَ أَحْسَنُ
Invite (everyone) to the Way of thy Lord with wisdom and beautiful preaching; and argue with them in ways that are best and most gracious.
Written in Naskh (green part) and Thuluth (black part) — by Nayzak — Amaana.org
"It is compulsory both in the West and the East to move beyond stereotypes and demonization, to educate the next generation to be global citizens who have a healthy respect for other cultures and religions." — John L. Esposito

John L. Esposito
There is the well-known Qur'anic verse: A goodly word is like a goodly tree (24:26, Yusuf Ali translation), which my late aunt, Annemarie… Continue reading →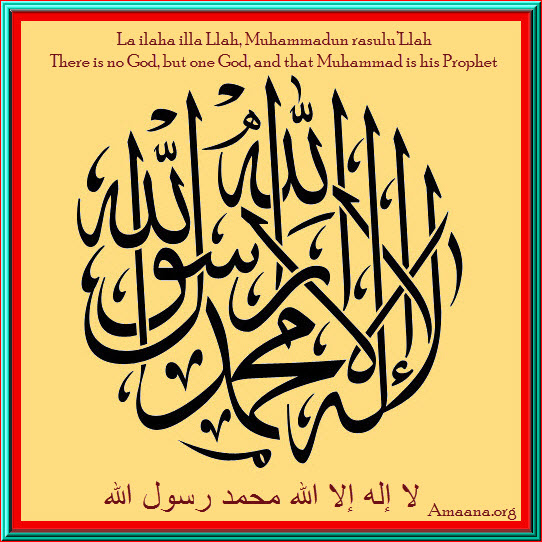 Understanding More about Islam
Harvard Graduate School of Education
October 4, 2001
by Marvin Pittman
"La ilaha illa Llah, Muhammadun rasulu'Llah"
"I witness that there is no God, but one God, and that Muhammad is his prophet."
—The Shahada, Islam's Declaration of Faith
As faith plays a strong role in America's conscience in light of the events of September 11, the American public also focuses now on Islam. Even though an estimated 8-10 million Muslims—made up of people from a wide variety of ethnic backgrounds and national origins—take part in many avenues in American society, the American public at large remains greatly prejudiced against, misunderstanding, and ignorant of Islam.
On October 3, the Harvard Graduate School of Education explored the complex issues surrounding Islam in the panel discussion "Understanding… Continue reading →
Address to the Canadian Parliament — Ottawa, Canada
February 27, 2014
View video of speech at bottom of text!
Bismillah-ir-Rahman-ir-Rahim
Mr Prime Minister,
Speaker Kinsella,
Speaker Scheer,
Honourable Members of the Senate and House of Commons,
Chief Justice of the Supreme Court
Honourable Members of the Diplomatic Community
Distinguished Guests,
Ladies and Gentlemen:
The Prime Minister's generous introduction has been very kind. I am grateful for this invitation, for our association, and for so thoughtfully enabling leading representatives of our community and institutions, around the world, to join us on this occasion. I am thankful they will have this opportunity to see for themselves why Canada is a leader in the community of nations.
I must also thank you, Prime Minister, for inviting me to… Continue reading →
This is an edited version of extracts from speeches delivered by Dr Reza Shah-Kazemi at Milad al-Nabi Celebrations held in Atlanta and San Francisco, USA, in 2007. It first appeared in The Ismaili, USA, 2008.
In the 9th year after the Hijra (631 CE), a prominent Christian delegation from Najran, an important centre of Christianity in the Yemen, came to engage Prophet Muhammad in theological debate in Medina. The main point of contention was the nature of Christ: was he one of the messengers of God or the unique Son of God? What is of importance for our purposes is not the disagreements voiced, nor the fact that the debate was cut short by a revelation instructing the Prophet to challenge the Christians to a mutual imprecation, the mubahala; rather,… Continue reading →
They are not all alike. Of the People of the Scripture there is a staunch community who recite the revelations of God in the watches of the night, falling prostrate.

They believe in God and the Last Day, and enjoin right conduct and forbid indecency, and vie with one another in good works. These are of the righteous.

And whatever good they do, they will not be denied it; and God knows the pious. (Quran 3: 113-114)

Thou wilt find the nearest of them [the People of the Scripture] in affection to those who believe to be those who say: Verily, we are Christians. That is because there are among them priests and monks, and they are not proud. (5: 82)

I believe in whatever scripture God hath… Continue reading →