Life – An Exalted Destiny – Aga Khan III
World's Biggest Pilgrimage Now Underway, And Why You've Never Heard of it!
By Sayed Mahdi al-Modarresi, Huffington Post UK
It's not the Muslim Hajj, or the Hindu Kumbh Mela. Known as Arbaeen, it is the world's most populous gathering and you've probably never heard of it! Not only does the congregation exceed the number of visitors to Mecca (by a factor of five, in fact), it is more significant than Kumbh Mela, since the latter is only held every third year. In short, Arbaeen dwarfs every other rally on the planet, reaching twenty million last year. That is a staggering 60% of Iraq's entire population, and it is growing year after year.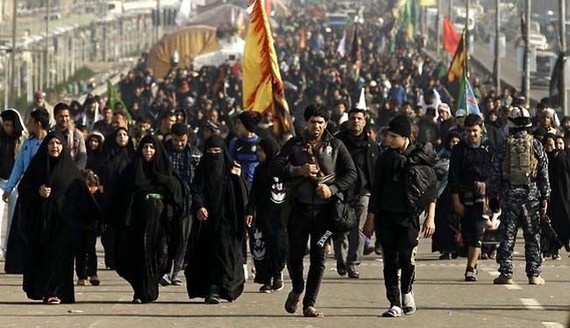 Above all, Arbaeen is unique because it takes place against the backdrop of chaotic and dangerous… Continue reading →
Mowlana Hazar Imam's 78th Birthday – Khushiali Mubarak! Salgirah Mubarak! (Birthday Blessings!) – December 13, 2014
"The existence of a spiritual guide is like a ladder leading towards God and how can an arrow fly in speed towards its destination without the bow? — Rumi
| | |
| --- | --- |
| Event | The Shia Imam's Birthday – Descendant of Prophet Muhammad (pbuh) |
| What | The Holy Imam, His Highness the Aga Khan's Birthday Celebrations – Khushiali Mubarak! Salgirah Mubarak! (Birthday Blessings!) |
| Why | The birthday of the Imam of the Time of the Shia Ismaili Muslims is celebrated to honor his service to God in spreading peace and understanding amongst his community and the peoples of the world. This tradition has continued for over 1400 years since the time of Hazrat Ali (a.s. on whom be peace) the… Continue reading |
A Bridge Between Two Epochs —  Aga Khan III, by Rashida Noormohamed Hunzai
Brave indeed would be a person to undertake a book on Hazrat Mawlana Sultan Muhammad Shah al-Husayni, `alayhi's-salam! It would take much more than an ordinary literary talent to do justice to a life crammed with so many unprecedented events and achievements, a life which he himself describes as being so full that he was never for an instant bored!
This publication therefore has very different objectives. It attempts to focus on selected aspects of Hazrat Mawlana Sultan Muhammad Shah's life and times in order to motivate the readers to reflect on the reasons for what happened during his long Imamat. The first two sections on his titles and decorations and a calendar of the main events… Continue reading →
Social Responsibility as Explained in the Quran
by Dr. Ali S. Asani
Ali Asani (AKH 73-84) was the recipient of one of His Highness the Aga Khan's personal scholarships while studying at Harvard. Since finishing his doctorate in 1984, he has pursued an academic career at his alma mater where he is currently Professor of the Practice of Indo-Muslim Languages & Cultures. Ali chose to speak about Islam and Social Responsibility at the Boston alumni dinner in November 1999.
It is not righteousness that you turn your faces towards the East and the West, but righteous is the one who believes in Allah, and the Last Day, and the angels and the Book and the prophets and gives away wealth out of love for Him (God) to the near of… Continue reading →
His name was Muhammad Sultan, also known as Sir Sultan Mahomed Shah, the Aga Khan, G.C.S.I., G.C.I.E., G.C.V.O., G.C.M.G., LL.D., was born at Honeymoon Lodge in Karachi on Friday, the 25th Shawal, 1294/ November 2, 1877 at 5:30 pm. When the news of his birth was routed to the Aga Khan I in Bombay, he said: "Name him Muhammad Sultan. He would be a Sultan (emperor) in the world. His period would see wonderful events, and would earn distinguished position in the world."
Sultan Mahomed Shah, Aga Khan III, was the 48th Imam of the Shia Ismaili Muslims. He was one of the founders and the first president of the All-India Muslim League, and served as President of the League of Nations from 1937-38.
He grew up under the subtle… Continue reading →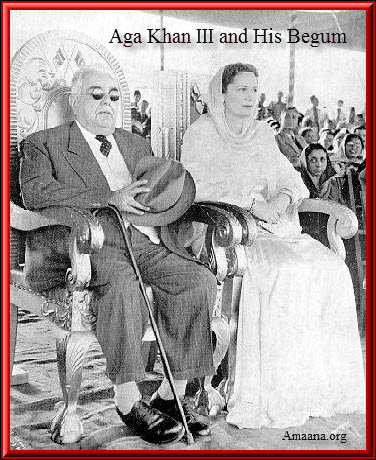 48th Imam – Direct descendant of Prophet Muhammad (pbuh)
It is my great honor and pleasure to present, on his birthday anniversary which falls on November 2nd, the gems from our beloved 48th Imam Mowlana Sultan Mahomed Shah Aga Khan III, a collage of his wonderful words of wisdom.  His life has been a great legacy for humanity.
His Highness the Aga Khan — Mowlana Hazar Imam, pays tribute to his grandfather:
"Many  many memories come to our minds as we think of him. He achieved in his life, for our community, that which could only have been accomplished normally in a period of many generations. The tributes that the world has paid him bear honest testimony to his great life and work." - Takht Nashini, Karachi, January 23, 1958… Continue reading →
Mowlana Hazar Imam and Steven Harper to inaugurate Ismaili Centre and Museum on September 12, 2014
City News Toronto: Videographer Audra Brown takes a tour of the Aga Khan Museum, a new building in Toronto celebrating Islamic art and culture.
http://www.citynews.ca/2014/09/10/aga-khan-museum-set-to-open-next-week/
https://www.facebook.com/citynewstoronto/posts/10152274109281175
http://www.680news.com/2014/09/10/aga-khan-museum-set-to-open-next-week/
TheIsmaili.org
His Highness the Aga Khan and Canadian Prime Minister Stephen Harper will preside over the opening of the Aga Khan Museum and the Ismaili Centre, Toronto on Friday, 12 September. The occasion will be marked by two separate ceremonies.
Full coverage will be provided on TheIsmaili.org, including a 
live webcast
 of both opening ceremonies. The webcast is expected to start at 2:00 pm EDT (Toronto time).
Watch the webcast live at TheIsmaili.org/live.
Aga Khan's gift to Canada | The Art Newspaper
Riches of Islamic art and science to… Continue reading →
Layla tul Qadr – The Night of Power and Destiny | Ismaili Web Amaana.
On this blessed Night of Power, on Saturday July 19, 2014, Ramadan 23, 1435, let us strive to earn the Grace of our Lord and receive the Baraqah (blessings) to receive the Light and the Peace, Ameen, so we can know ourselves and know our Lord! This Maarifa – spiritual knowledge, gnosis, is the goal of every believer and we have a Living Guide to help us!
On the Night of Power, power belongs to us
So long as the form of the Beloved's image is with us,
for us the whole of life is a joyful parade.
Where friends unite together, there in the midst of the house,
by Allah, is a spreading plain;… Continue reading →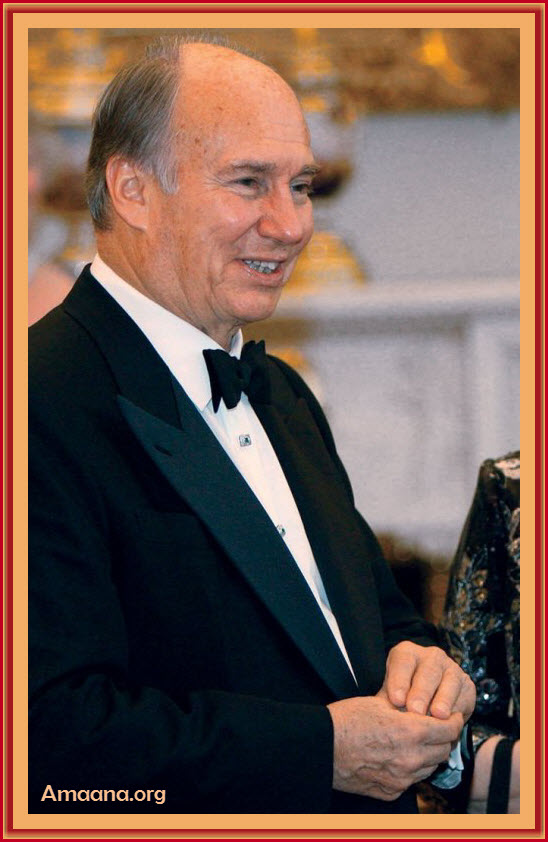 Imamat Day 2014: Imamat Day – The Shia Imam's Rope of 57 years of Imamat as the a Direct Descendent of Prophet Muhammad (pbuh)
July is the 7th month, 49th Imam is 7 times 7. It's been 7 years since the Golden Jubilee. This is the 57th anniversary of Imamat Day. He became an Imam in 1957!
2014 – 14 is 7 times 2. This picture was taken on July 7th when Queen Elizabeth II hosted a dinner at Buckingham Palace to mark the Golden Jubilee of Prince Karim Aga Khan IV, July 7, 2008. There is lot of symbolism of the number 7 and celestial significance of this anniversary as it is 7-11 and I am sure our readers will come up with more! Please use comments below to… Continue reading →
In Sufism, Metaphysics is always linked to spiritual realization
by Titus Burckhardt
Sufi doctrine possesses several branches, the two most important of which are the domain of Universal Truths (Haqâ'iq) and the domain relating to the human or individual stages of the spiritual way (daqâ'iq); in other words, metaphysics (the science of principles, or of the Principle) and virtue (the "science of the soul"). Needless to say, these two domains are not in watertight compartments. Metaphysics by definition includes everything, but in Sufism it is always linked to spiritual realization. Cosmology, which is derived from metaphysics, applies to both macrocosm and microcosm. Thus, there is a psychology which has a cosmic application and a psychology which, by analogy, applies to the soul or the inward constitution of man.
In order… Continue reading →
The holy month of Ramadan begins on the first day of Ramadan which is the ninth month of the Islamic lunar calendar. This year it starts on June 28, 2014. After the moon cycle of 30 days or so, the end of the fasting month is celebrated by Eid where the devout celebrate after having completed the month of fasting successfully starting with the morning prayers after which greetings are exchanged children are given an Eidi, a gift of money followed great rejoicing and feasting and picnics.
The great Muslim poet Jalal al-Din Muhammad Rumi's Ramadan poems 13th century AD:
"O moon-faced Beloved,
the month of Ramadan has arrived.
Cover the table
and open the path of praise."
"The month of fasting has come, the emperor's banner has arrived; withhold… Continue reading →
al-Masabih fi Ithbat al-Imama
-Kirmani's Lights to Illuminate the Proof of the Imamate (al-Masabih fi ithbat al-imama)
Image: Shia Shahada, Qiblah of Imam Mustansir – La ilaha il Allah, Muhammad-un Rasool Allah, and Ali-un Wali Allah – There is no God but God, Muhammad is the Messenger of God, and Ali is the Saint of God – Inscribed on Fatimid Mosque of Qahira
On the other hand, in proving the necessity of Imamate the Ismailis rely on both reason and Sharia. In his book, al-Masabih fi Ithbat al-Imama (pp.80-95), al-Kirmani produces fourteen proofs of the necessity of lmamate.   The following is a summary… Continue reading →