Life – An Exalted Destiny – Aga Khan III
Esoteric Meaning of Little Angels (Shining Stars) in Ismailia
by Noor-e-Rahim
Noor Maulana Shah Karim Al Hussaini Hazir Imam our beloved Hazir wa Maujood Imam is the 49th Imam in succession to the Imamat entrusted by Prophet Muhammad (Peace Be Upon Him) to Maula Ali. As Shia Imami Ismaili Muslims it is our belief that Imam of the time is the Nur (light) of Allah sent to us to enlighten our souls spiritually as well as our physical lives.
As Shia Imami Ismaili Muslims when we say Nur (light) is from Imam-e-Zaman (A.S.) then we must understand and believe in it too. Just like the Light in its physical form enlightens the surroundings. It ensures that darkness is removed to ensure things can be seen in its physical… Continue reading →
The Holy Qur'an in the Ginanic Literature – An Initial Exploration
By Rashida Noormohamed-Hunzai
This paper seeks to demonstrate the underlying teachings of the holy Qur'an in the Ginanic Literature, therefore it is essential, first of all to describe the nature of the Qur'an, as well as that of the Ginans in order to understand better the relationship between them.
The holy Qur'an is the Divine revelation to the Prophet Muhammad (s.a.s.) and unites the entire Muslim ummah. In its own words in Surah 26, verses 192 to 195:
"It is a revelation of the Lord of the worlds, which the True Spirit has brought down upon your (i.e. Prophet Muhammad's) heart that you may be of the warners in plain Arabic speech." — Quran 26:192-195
We further learn from… Continue reading →
Imam and Imamat
By Prof. Dr. Allama Nasir al Din Nasir Hunzai
In his firman to Surat Jamat on 12th October, 1903, NOOR Mowlânâ Sultân Muhammad Shâh (a.s.) said "If you always read religious books, you will come to know that the throne of Imamat is continuous, perpetual and everlasting." Therefore, the subjects of Imam and Imamat are of paramount importance for all believers of God.
The verse (36:12) reveals that God has encompassed everything – intellectual, spiritual and physical – in the light of the most noble Imam. Therefore, according to the principles of Qur'anic wisdom, it is clear that all subjects are contained in the subject of Imâmat and all words in the word Imâm. [Source: Recognition of Imam (Imâm – Shinâsi) Part I & II]
Prophet Muhammad Birthday Milad un Nabi — Mevlût
By Annemarie Schimmel
In the Turkish tradition, the best-known early mevlût was written by Süleyman Chelebi of Bursa around 1400. But more than a century earlier, Yunus Emre had already promised heavenly reward to those who recite mevlût, which shows — provided the verses are genuine — that mevlûts were popular among the Turks at a rather early stage. Süleyman Chelebi's poem is written in rhyming couplets, a literary from adopted from the Persian. Its rhythm is simple; the meter is the same as that used primarily in Persian mystical and didactic epics such as 'Attar's Mantiq ut-tair and Rumi's Mathnawi. The language is plain, almost childlike, and therefore the poem has not lost anything of its charm even today. (But even this poem was considered… Continue reading →
Aspects of Ismaili Theology: The Prophetic Chain and the God Beyond Being by Wilferd Madelung
This is an edited version of an article that was originally published in Ismaili Contributions to Islamic Culture, eds. Seyyed Hossein Nasr (1977), Imperial Iranian, Academy of Philosophy, Tehran, pp: 53-65.
The Ismailis appeared first on the stage of the history of Islam in the second half of the third century AH /ninth century CE and spread with astonishing rapidity. Centred originally in Khuzistan in south-western Iran, its missionaries carried its message throughout the Islamic world from Transoxania and the Indus valley to the Maghrib. In eastern Arabia, the Yaman and in the eastern Maghrib, its converts became numerous enough to set up their own political communities under the sovereignty of the Expected… Continue reading →
On the Meaning of Music in Persian Mysticism
By Henry Corbin
(Introduction given at le cité Universitaire May 19th 1967, on the occasion of an evening of Persian music, poetry and dance. L'Iran et la Philosophie, Fayard 1990. This translation appeared in Temenos 13, 1992, Translated by Kathleen Raine)
I would like to suggest, in a few pages, how I see the fact that among all the forms of mysticism our science of religions has made known to us, Persian mysticism is notable as having always tended towards musical expression, and as never having found its complete expression otherwise than in that form. The part played by music in Islamic countries has not, over the centuries, followed the same course as in the West; doubtless because those who…
Continue reading
Coffin of Imam 'Ali, Folio from the Falnama (the Book of Omens) of Ja'far al-Sadiq
This folio is from a manuscript of the Falnama (Book of Omens), an illustrated divinatory book. It depicts 'Ali, the first Shi'i imam, shown with a face veil and a flaming halo. He leads a camel with a coffin while two other men, his sons Hasan and Hussain, also shown with a face veil and a flaming halo, watch from behind a hillside. According to Muslim mystical thought, Imam 'Ali not only predicted his own death but also told his two sons that when he died, a veiled man would carry his coffin away on a camel for burial. He cautioned them not to question the man. When 'Ali's prediction came true, Hasan and… Continue reading →
Fatima Az-Zahra (a.s.)
By Syed H. Akhtar
When writing about the greatness of a personality, one needs a gold standard with which to compare the strengths and weaknesses of that individual. However, if that person is herself the gold standard, then it makes it impossible to adequately describe her greatness. Hazrat Fatima az-Zahra (A) was such a personality. Her merits are unmatched by any woman known in history and Allah swt himself testifies in the Qur'an about her purity and piety.
It is related that Imam Jafar As-Sadiq (A) said: "Fatima has nine names near (to) Allah swt, they are: Fatima, As-Siddiqa (the honest), Al-Mubarakah (the blessed one), At- Tahirah (virtuous), Az-Zakiyah (the chaste), Ar-Radhiyatul-… Continue reading →
World's Biggest Pilgrimage Now Underway, And Why You've Never Heard of it!
By Sayed Mahdi al-Modarresi, Huffington Post UK
It's not the Muslim Hajj, or the Hindu Kumbh Mela. Known as Arbaeen, it is the world's most populous gathering and you've probably never heard of it! Not only does the congregation exceed the number of visitors to Mecca (by a factor of five, in fact), it is more significant than Kumbh Mela, since the latter is only held every third year. In short, Arbaeen dwarfs every other rally on the planet, reaching twenty million last year. That is a staggering 60% of Iraq's entire population, and it is growing year after year.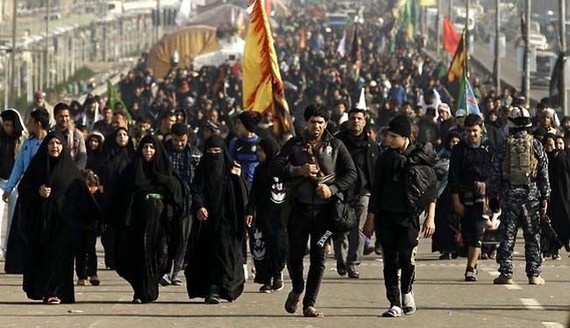 Above all, Arbaeen is unique because it takes place against the backdrop of chaotic and dangerous… Continue reading →
Mowlana Hazar Imam's 78th Birthday – Khushiali Mubarak! Salgirah Mubarak! (Birthday Blessings!) – December 13, 2014
"The existence of a spiritual guide is like a ladder leading towards God and how can an arrow fly in speed towards its destination without the bow? — Rumi
| | |
| --- | --- |
| Event | The Shia Imam's Birthday – Descendant of Prophet Muhammad (pbuh) |
| What | The Holy Imam, His Highness the Aga Khan's Birthday Celebrations – Khushiali Mubarak! Salgirah Mubarak! (Birthday Blessings!) |
| Why | The birthday of the Imam of the Time of the Shia Ismaili Muslims is celebrated to honor his service to God in spreading peace and understanding amongst his community and the peoples of the world. This tradition has continued for over 1400 years since the time of Hazrat Ali (a.s. on whom be peace) the… Continue reading |
A Bridge Between Two Epochs —  Aga Khan III, by Rashida Noormohamed Hunzai
Brave indeed would be a person to undertake a book on Hazrat Mawlana Sultan Muhammad Shah al-Husayni, `alayhi's-salam! It would take much more than an ordinary literary talent to do justice to a life crammed with so many unprecedented events and achievements, a life which he himself describes as being so full that he was never for an instant bored!
This publication therefore has very different objectives. It attempts to focus on selected aspects of Hazrat Mawlana Sultan Muhammad Shah's life and times in order to motivate the readers to reflect on the reasons for what happened during his long Imamat. The first two sections on his titles and decorations and a calendar of the main events… Continue reading →
Social Responsibility as Explained in the Quran
by Dr. Ali S. Asani
Ali Asani (AKH 73-84) was the recipient of one of His Highness the Aga Khan's personal scholarships while studying at Harvard. Since finishing his doctorate in 1984, he has pursued an academic career at his alma mater where he is currently Professor of the Practice of Indo-Muslim Languages & Cultures. Ali chose to speak about Islam and Social Responsibility at the Boston alumni dinner in November 1999.
It is not righteousness that you turn your faces towards the East and the West, but righteous is the one who believes in Allah, and the Last Day, and the angels and the Book and the prophets and gives away wealth out of love for Him (God) to the near of… Continue reading →