Life – An Exalted Destiny – Aga Khan III
Ali Bin Abu Talib (11-40/632-661), 1st Imam
"Ali, the son of Abu Talib and the cousin of the Prophet was born on Friday, the 13th Rajab in the 28th year of A'am al-fil (the year of elephants) or 600 A.D. inside Kaba in Mecca. He was brought up under the subtle care and affection of the Prophet. Ali himself cherished the memory of his childhood by saying: "The Prophet brought me up in his own arms and fed me with his own morsel. I followed him, wherever he went, like a baby-camel which follows its mother. Each day a new aspect of his character would beam out of his noble person and I would accept it and follow it as commanded." Ibn Abid Hadid (d. 655/1257) quotes Ibn Abbas as… Continue reading →
Beyond Polemics and Pluralism: The Universal Message of the Qur'an[1]
— Reza Shah-Kazemi
Editor's Note: It was a delight to hear Dr. Shah-Kazemi's lecture on the subject in person yesterday. Please view my picture with him below! Yay! My sincere thanks to Dr. Shah-Kazemi for providing this article and I am honored to present it on the Ismaili Web. Alhamduli'Llah! Please also view video of this presentation made in June 2014 at the end of this article and I just added his presentation at FIU on March 31, 2015. Thank you!

♥
And they say: None entereth Paradise unless he be a Jew or a Christian. These are their vain desires. Say: Bring your proof if ye are truthful.
Nay, but whosoever submitteth his purpose to God, and he is… Continue reading →
Speech by Prince Aly Khan in 1951
Lecture by His Serene Highness Prince Aly Khan under the chairmanship of His Worship the Major, councillor Abdulkarim M.L.C., Vice – President of the Dar es Salaam Cultural Society.
30 January 1951
It is indeed ironical that here, in Dar es Salaam, "Haven of peace," I must speak of war.
That I may speak of war and yet hold bright hopes for peace is due to my strong conviction that growing strength of the Mohamedan world, is staunchly united with Christianity in defence of freedom, may yet prevent, or if not prevent, bring to a victorious conclusion, any war which might be imposed upon us.
The Mohamedan world, the Middle East and Pakistan, is, I submit the hub of the free world's… Continue reading →
Interview – The Forgotten Children of Abraham
by Katherine Schimmel Baki
Calligraphy above — Quran 16:125
ادْعُ إِلَىٰ سَبِيلِ رَبِّكَ بِالْحِكْمَةِ وَالْمَوْعِظَةِ الْحَسَنَةِ ۖ وَجَادِلْهُم بِالَّتِي هِيَ أَحْسَنُ
Invite (everyone) to the Way of thy Lord with wisdom and beautiful preaching; and argue with them in ways that are best and most gracious.
Written in Naskh (green part) and Thuluth (black part) — by Nayzak — Amaana.org
"It is compulsory both in the West and the East to move beyond stereotypes and demonization, to educate the next generation to be global citizens who have a healthy respect for other cultures and religions." — John L. Esposito

John L. Esposito
There is the well-known Qur'anic verse: A goodly word is like a goodly tree (24:26, Yusuf Ali translation), which my late aunt, Annemarie… Continue reading →

The Tolerance of the Fâtimids toward "The People of the Book" (Ahl Al-Kitâb)

By Diana Steigerwald
"The first principle is to comprehend, to be convinced of, to uphold the fact
that  there  is  no  conflict  between  Islam  and  Christianity.  There  may  be
conflict on political issues, there may be conflict on economic issues, there
may be conflict on social issues but the faith of Islam is not in conflict with
the faith of Christianity and that is so clearly specified in Islam and all I need
to do this morning is to mention the words to you Ahl al-Kitâb, the People of
Book.  The  Book  is  Allah's  revelation  to  man,  revealed  to  man  through
Allâh's Prophets of which Prophet Muhammad was the last Prophet." (Karîm
Âghâ Khân… Continue reading →
Defining Without Confining:
Reflections on a prophetic usage of sacred space.
Reza Shah-Kazemi
INTRODUCTION
In this article I intend to show that, in traditional Islamic consciousness, to define the space of the sacred (the mosque, the qibla, etc.) does not confine the sacred (wherever ye turn there is the face of God), and thus that the space of the sacred cannot be subject to what we might call 'religious nationalism'. The sacred is both transcendent and immanent, combining both poles of tanzīh (incomparability), and tashbīh (similarity). At the heart of the sacred lies the paradox that its divine essence is absolutely unknowable; but there is nothing that does not, in its own way, manifest the sacred.
In the first part, I will… Continue reading →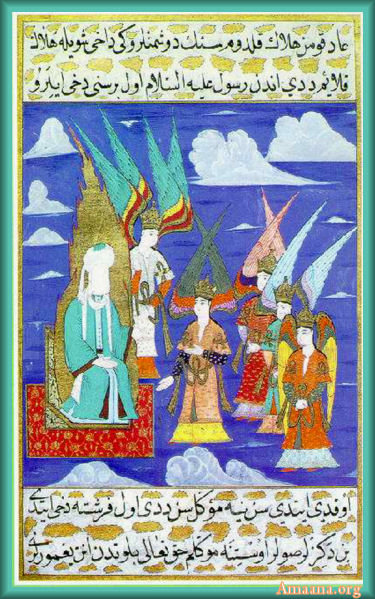 Prophet Muhammad Collection on the Ismaili Web
As the Ismaili Web has grown during the past twenty years, the material I have gathered on our beloved Prophet Muhammad (pbuh) has been spread over many pages. I decided to create this page to portray all the files in one place for Milad Day. Hope this is useful. "And We have not sent you except as a Mercy to Mankind" – Sura Al-Anbiyah 21:107
Salwaat – Blessings and Greetings of Peace
"Verily Allah sends blessings upon the prophet, and his angels ask Allah to bless him. Oh you who have believed ask Allah to send blessings upon him and greet him with peace" – Sura Al-Ahzab 33:56
Salwaat Audio (download .wav file)
Seerat Conference in Honor of Prophet Muhammad
In the Presidential… Continue reading →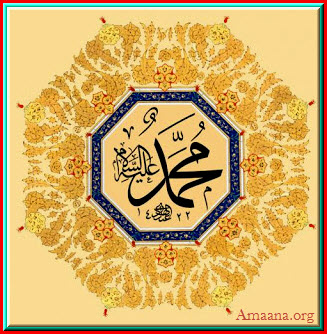 Birthday of Prophet Muhammad
By Amir Gulamhusein
In the Presidential Address given at the International Seerat Conference held in Karachi, Pakistan on 12th March 1976, Mawlana Hazar Imam (s.a.) said:
In the face of this changing world, which was once a universe to us and is now no more than an overcrowded island, confronted with a fundamental challenge to our understanding of time, surrounded by a foreign fleet of cultural and ideological ships which have broken loose, I ask, do we have a clear, firm and precise understanding of what Muslim Society is to be in times to come? And if, as I believe, the answer is uncertain, where else can we search than in the Holy Qur'an, and in the example of Allah's last and final Prophet?"
The Seerat… Continue reading →
"Have you not considered how God sets forth the parable of a good word (being) like a good tree, whose root is firm and whose branches are in heaven,
Giving its fruit at every season by permission of its Lord? Allah coineth the similitudes for mankind in order that they may reflect."

Quran: Surah Ibrahim: 14:24-25
14:24 الم تر كيف ضرب الله مثلا كلمة طيبة كشجرة طيبة اصلها ثابت وفرعها فى السماء
14:24 Alam tara kayfa daraba Allahumathalan kalimatan tayyibatan kashajaratin tayyibatinasluha thabitun wafarAAuha fee alssama/-i
14:25 توتى اكلها كل حين باذن ربها ويضرب الله الامثال للناس لعلهم يتذكرون
14:25 Tu/tee okulaha kulla heeninbi-ithni rabbiha wayadribu Allahual-amthala lilnnasi laAAallahum yatathakkaroona
A Good Word is Like a Good Tree
by Annemarie Schimmel
March 1996
Honourable assembly, Your Honour Mr. President.… Continue reading →

When we think how few men of real religion there are, how small the number of defenders and champions of the truth—when one sees ignorant persons imagining that the principle of Islam is hardness, severity, extravagance and barbarity—it is time to repeat these words:
Patience is beautiful, and God is the source of all succour. (Sabr jamîl, wa'Llâhu'l-musta'ân—Qur'an, XII: 18)  The Emir Abd al-Qadir al-Jaza'iri
If the words quoted above were true in 1860, when the Emir wrote them, they are sadly even truer today. In the aftermath of the earth-shaking events of September 11 many in the West and in the Muslim world are rightly appalled by the fact that the mass-murder perpetrated on that day is being hailed by some Muslims as an act of… Continue reading →