Life – An Exalted Destiny – Aga Khan III
Ali Bin Abu Talib (11-40/632-661), 1st Imam
"Ali, the son of Abu Talib and the cousin of the Prophet was born on Friday, the 13th Rajab in the 28th year of A'am al-fil (the year of elephants) or 600 A.D. inside Kaba in Mecca. He was brought up under the subtle care and affection of the Prophet. Ali himself cherished the memory of his childhood by saying: "The Prophet brought me up in his own arms and fed me with his own morsel. I followed him, wherever he went, like a baby-camel which follows its mother. Each day a new aspect of his character would beam out of his noble person and I would accept it and follow it as commanded." Ibn Abid Hadid (d. 655/1257) quotes Ibn Abbas as… Continue reading →
Speech by Prince Aly Khan in 1951
Lecture by His Serene Highness Prince Aly Khan under the chairmanship of His Worship the Major, councillor Abdulkarim M.L.C., Vice – President of the Dar es Salaam Cultural Society.
30 January 1951
It is indeed ironical that here, in Dar es Salaam, "Haven of peace," I must speak of war.
That I may speak of war and yet hold bright hopes for peace is due to my strong conviction that growing strength of the Mohamedan world, is staunchly united with Christianity in defence of freedom, may yet prevent, or if not prevent, bring to a victorious conclusion, any war which might be imposed upon us.
The Mohamedan world, the Middle East and Pakistan, is, I submit the hub of the free world's… Continue reading →
Nawruz Mubarak Everyone! Rejoice!
March 21st is Imam Hazrat Ali's solar birthday anniversary! Please read on the following pages to see how important this New Year celebration is for the Ismailis and the whole Universe, especially since this year it falls on the New Moon and Total Solar Eclipse on this Equinox day! How Divine!
I am especially happy as this Navroz will be the 21st anniversary of Amaana.org on March 21st 2015!
If Nawruz is a festival of joy and delight,
it is through your light that it has come to be so.

— Prince Amir Tamim al-Fatimi, son of Imam al-Muiz
"Factually the number of months in the eyes of God, in the Book of God from the day He created the earth and the heaven, are… Continue reading →
Hamid al-Din al-Kirmani (d. 1020)
ḤAMID-AL-DIN KERMĀNI, ABU'L-ḤASAN AḤMAD b. ʿAbd-Allāh b. Moḥammad (d. after 411/1020-21), a prominent Ismaʿili dāʿi (q.v.) and one of the most accomplished Ismaʿili theologians and philosophers of the Fatimid period of Persian origin and was probably born in the province of Kirman. As in the case of other prominent dāʿis, who observed strict secrecy in their activities while living in hostile milieus, few biographical details are available about him, although it is known that he flourished during the reign of the Fatimid Caliph-Imam al-Ḥākem be-Amr-Allāh (q.v.; 386-411/996-1021). Kermāni is not mentioned in any contemporary Muslim historical sources, but highlights of his life and career can be gathered from his own numerous extant works as well as the writings of the later Mostaʿli-Ṭayyebi Ismaʿili authors of… Continue reading →
Moments with Shams – Words of Wisdom from Rumi's Teacher
 — Selections from the Maqalat of Shams-i Tabriz, Translated and edited by Refik Algan and Camille Helminski
Intensifying One's Search
One's longing, one's search for the beneficence of God, must be so strong and intense that like the longing of Moses it allows no obstacle to stand in the way. When the Prophet Moses asked: "Who is more knowledgeable in the universe than I am?" his friend Joshua answered: "There is one person more knowledgeable than you are." Moses didn't get angry, he didn't get offended; he didn't say, "What kind of a thing to say is that!" But instead, "Oh, what was it you said?" he asked for information, because he was searching. Joshua was also a prophet, but… Continue reading →
Aspects of Ismaili Theology: The Prophetic Chain and the God Beyond Being by Wilferd Madelung
This is an edited version of an article that was originally published in Ismaili Contributions to Islamic Culture, eds. Seyyed Hossein Nasr (1977), Imperial Iranian, Academy of Philosophy, Tehran, pp: 53-65.
The Ismailis appeared first on the stage of the history of Islam in the second half of the third century AH /ninth century CE and spread with astonishing rapidity. Centred originally in Khuzistan in south-western Iran, its missionaries carried its message throughout the Islamic world from Transoxania and the Indus valley to the Maghrib. In eastern Arabia, the Yaman and in the eastern Maghrib, its converts became numerous enough to set up their own political communities under the sovereignty of the Expected… Continue reading →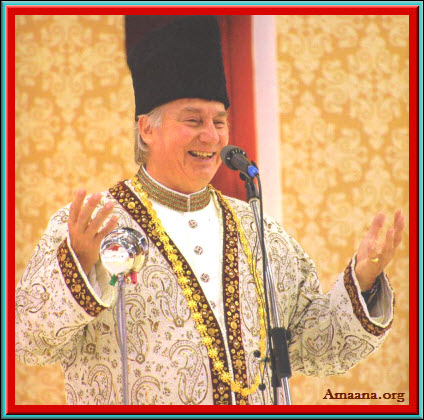 An ode for
Imam-e-Zaman
By Nadim Pabani – Inspired by the Navroz Spring.
An ode for Imam-e-Zaman we sing.
Seeing the birds outside take flight,
Line by line we begin to write.
So now we wish to begin this rhyme,
For the Master of the Age and Time
To glorify your Light that shines,
We are moved to write each line.
But how can human language
Begin to describe, begin to capture, begin to give justice to your greatness,
To quote the words of the Prophet, a Muslim void of love for Ali is faithless.
But this Murid will try his very best,
To help others realise that you are the Light of the East and West,
You refrain from seeking worldly might,
Even though, this is your… Continue reading →
THE ISMAILI SOCIETY
ISMAILI TEXTS AND TRANSLATIONS SERIES, NO. 4
ON THE
RECOGNITION OF THE IMAM
(Fasl dar Bayan-I Shinakht-i Imam)
Translated from Persian by
W. IVANOW
---
TABLE OF THE CONTENTS OF THE TEXT
1. The manifestation of the Imam and his Hujjat……1v.-2v.
2. The necessity of the propaganda (da'wat) in the time when the Imam is
hidden ….. 2v.-3
3. The fourfold knowledge about the Imam …..3-3v.
4. The Hujjat's and da'i's knowledge of the Imam …..3v.-4
5. The relations between the Imam and the Hujjat …..4-4v.
6. The manifestation of the Imam is essential to the existence of the world
…..4v.-6
7. Definition of the degree of the Hujjat …..6-6v.
8. The logical proofs of the necessity of the Hujjat …..6v.
9. The traditional proofs… Continue reading →
Nasir-i Khusraw Poetry
Nasir Khusraw is acknowledged as one of the foremost poets of the Persian language. Born in the Balkh district of Central Asia in 394/1004, Nasir was inspired from an early age by a tremendous thirst for knowledge. His intellectual abilities brought him much fame, a promising career in government service, and a life of ease and pleasure. But he was always dissatisfied by a lack of meaning and purpose in his life until one day, at the age of 42, he was dramatically transformed by a visionary dream. He converted to Ismailism, renounced his worldly life and embarked on his famous seven-year journey to Egypt. Nasir arrived in Cairo in 439/1047, where he stayed for three years and became acquainted with Ismaili dignitaries such as Al… Continue reading →
The Mystical Visions of Ibn al-'Arabî (d. 1240)
– Dr. Diana Steigerwald
California State University (Long Beach)
"Whatever may be the philosophical doctrine to which we adhere, we observe, as soon as we speculate on the origin and the cause, the anteriority and the presence of the Feminine."
– Excerpt from the Fusûs al-hikam of Ibn al-'Arabî
The 13th century, even though politically overshadowed by the invasion of the Mongols and the end of the 'Abbâsid caliphate, was also the golden age of Sufism. Known as Shaykh al-Akbar (the Greatest Shaykh), Muhyî al-Dîn Ibn al-'Arabî was one of the most famous representatives of esoteric mysticism at the beginning of the 13th century. He was born in Murcia (city in Spain) in 1165 and at the age… Continue reading →