Life – An Exalted Destiny – Aga Khan III
Aga Khan emphasizes collective responsibility, cracks jokes in talk on tradition and technology
By Caroline Kelly
Photo  – Brittany Comunale / Herald
There was room for both social media jokes and a thoughtful discussion of modern communication in Prince Karim Aga Khan IV's lecture yesterday.
Prince Karim Aga Khan IV '96 hon. P'95 said during a lecture Monday that the hardest part of speaking at Brown again since delivering the baccalaureate address in 1996 was "that you have to explain what you got wrong the first time." It was hard to imagine that the thorough, well-spoken 49th hereditary imam of Nizari Ismailism would be prone to carelessness.
But he insisted. "I think I actually underestimated what happened in the 18 years ahead," he said, acknowledging that back… Continue reading →

The 88th Stephen Ogden Lecture delivered by His Highness the Aga Khan at Brown University
View Video with Captions below, courtesy Brown University via Nanowisdoms.org
10 March 2014
Bismillah-ir-Rahman-ir-Rahim
President Paxson,
Ogden Family representatives,
Brown University Faculty, Students and Alumni,
Distinguished Guests,
Ladies and Gentlemen:
Thank you very much, Madame President, for your very kind introduction. It is a great honour for me to give the Ogden Lecture, to be included in the distinguished company of past Ogden Lecturers, and to pay tribute to the memory of Stephen Ogden.
I am also delighted to be present for the opening weekend of Brown's 250th Anniversary, or one might say, the happy conclusion of Brown's first quarter of a millennium!!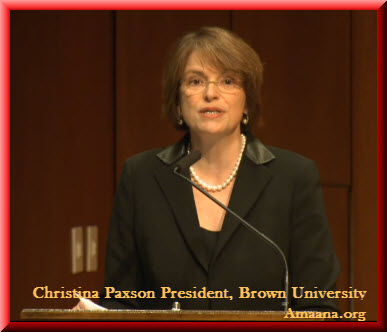 I have long felt a close sense of belonging… Continue reading →
Address to the Canadian Parliament — Ottawa, Canada
February 27, 2014
View video of speech at bottom of text!
Bismillah-ir-Rahman-ir-Rahim
Mr Prime Minister,
Speaker Kinsella,
Speaker Scheer,
Honourable Members of the Senate and House of Commons,
Chief Justice of the Supreme Court
Honourable Members of the Diplomatic Community
Distinguished Guests,
Ladies and Gentlemen:
The Prime Minister's generous introduction has been very kind. I am grateful for this invitation, for our association, and for so thoughtfully enabling leading representatives of our community and institutions, around the world, to join us on this occasion. I am thankful they will have this opportunity to see for themselves why Canada is a leader in the community of nations.
I must also thank you, Prime Minister, for inviting me to… Continue reading →
Ottawa, 27 November 2013
President Frank and leaders of the Royal Architectural Institute of Canada,
Madame Clarkson
Excellencies
Distinguished Guests
Ladies & Gentlemen
Monsieur le Président, je voudrais vous remercier pour l'honneur que votre institut me fait aujourd'hui. Je remercie Monsieur Baird de m'avoir nommé pour recevoir ce prix si prestigieux et de ces paroles élogieuses.
Je suis profondément flatté de recevoir votre médaille d'or, tout d'abord à cause des personnalités qui me la remettent – mais aussi par l'esprit d'excellence que votre Institut représente. C'est aussi un grand honneur si l'on considère la qualité des récipiendaires depuis sa création en 1907; je suis fier d'en faire partie a présent. Je suis d'autant plus heureux qu'il s'agisse d'une récompense canadienne – car comme vous le savez, mes… Continue reading →
Imamat Speeches, Interviews and Writing featured at Nanowisdoms. Please also visit the theme lists with the Extended and Short Quotes at bottom of this list.
Imamat Speeches, Interviews and Writings List at Nanowisdoms Archives. Please also visit the theme lists with the Extended and Short Quotes at bottom of this list.

by Jonah Winters
Say: "It is Allah Who guides to the truth. Is then He, Who gives guidance to the truth, more worthy to be  followed,..?" Qur'an: 10:35
Editor's note: In this article, Jonah Winters refers to the Shia who are Twelvers whose Imams stopped after the twelfth Imam and has not included the Shia whose Imams descended from Prophet Muhammad and Hazrat Imam Ali and continue in the present Living Imam the 49th in the lineage, Hazar Imam Karim Al Husayni  Aga Khan. So as he admits in his conclusion, he has not had the full historical story of the Shia either. But the article is an excellent one and should be read by all to bring about understanding of our unique traditions. He says "…I approach the… Continue reading →

Islamic Arabic Calligraphy – Let life happen and be thankful to Allah Do not dwell on the negative as it will soon come to pass

The great Muslim poet Jalal al-Din Muhammad Rumi's Ramadan poems 13th century AD:
"O moon-faced Beloved,
the month of Ramadan has arrived.
Cover the table
and open the path of praise."
"The month of fasting has come, the emperor's banner has arrived; withhold your hand from food, the spirit's table has arrived.
The soul has escaped from separation and bound nature's hands; the heart of error is defeated, the army of faith has arrived.
Fasting is our sacrifice, it is the life of our soul; let us sacrifice all our body, since the soul has arrived as guest.
Fortitude is as a sweet cloud, wisdom… Continue reading →
"It would be wrong to see this as the future of the Ummah. There are many today across the Muslim world who know their history and deeply value their heritage, but who are also keenly sensitive to the radically altered conditions of the modern world. They realise, too, how erroneous and unreasonable it is to believe that there is an unbridgeable divide between their heritage and the modern world.
There is clearly a need to mitigate not what is a "clash of civilisations" but a "clash of ignorance" where peoples of different faiths or cultural traditions, are so ignorant of each others that they are unable to find a common language with which to communicate. Those with an educated and enlightened approach — amongst whom I can count our… Continue reading →