Life – An Exalted Destiny – Aga Khan III
Imam Hazrat Ali from "An Introduction to Shi'i Islam" by Moojan Momen
Born inside the Holy Kaaba in Mecca on Friday the 13th Rajab, 30 Amulfeel, (year of the Elephant) 11th October 599 A.D. His father was Hazrat Abu Talib, his mother was Bibi Fatima Binte Asad, his wife was Bibi Fatima Binte Muhammad az-Zahra (SA) and he was the father of Imam Hassan (AS), Imam Hussein (AS), Bibi Zaynab (AS), Bibi Kulthum (AS) and Hazrat Muhsin(AS).
As we all know, Hazrat Ali (a.s.) was the first male Muslim convert (Hazrat Khatija being the first female believer) and he took up the responsibility to propagate the Holy Message delivered to our beloved Prophet Muhammad (s.a.s.) at a tender age. He was only twelve when Prophet Muhammad asked who would come to… Continue reading →
World's Biggest Pilgrimage Now Underway, And Why You've Never Heard of it!
By Sayed Mahdi al-Modarresi, Huffington Post UK
It's not the Muslim Hajj, or the Hindu Kumbh Mela. Known as Arbaeen, it is the world's most populous gathering and you've probably never heard of it! Not only does the congregation exceed the number of visitors to Mecca (by a factor of five, in fact), it is more significant than Kumbh Mela, since the latter is only held every third year. In short, Arbaeen dwarfs every other rally on the planet, reaching twenty million last year. That is a staggering 60% of Iraq's entire population, and it is growing year after year.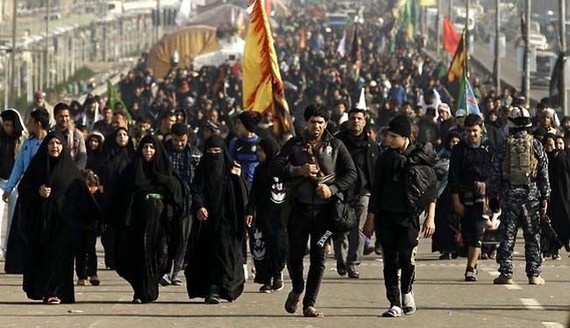 Above all, Arbaeen is unique because it takes place against the backdrop of chaotic and dangerous… Continue reading →
Mowlana Hazar Imam's 78th Birthday – Khushiali Mubarak! Salgirah Mubarak! (Birthday Blessings!) – December 13, 2014
"The existence of a spiritual guide is like a ladder leading towards God and how can an arrow fly in speed towards its destination without the bow? — Rumi
| | |
| --- | --- |
| Event | The Shia Imam's Birthday – Descendant of Prophet Muhammad (pbuh) |
| What | The Holy Imam, His Highness the Aga Khan's Birthday Celebrations – Khushiali Mubarak! Salgirah Mubarak! (Birthday Blessings!) |
| Why | The birthday of the Imam of the Time of the Shia Ismaili Muslims is celebrated to honor his service to God in spreading peace and understanding amongst his community and the peoples of the world. This tradition has continued for over 1400 years since the time of Hazrat Ali (a.s. on whom be peace) the… Continue reading |