Life – An Exalted Destiny – Aga Khan III
Aga Khan III, Mowlana Sultan Mahomed Shah on Spirituality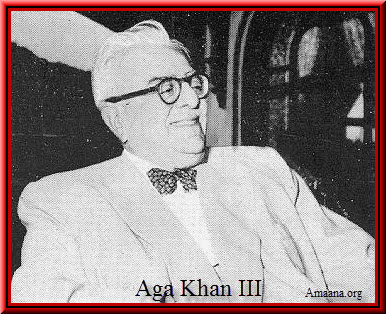 Aga Khan III, Mowlana Sultan Mahomed Shah on Spirituality
lbn-Rushd, the great Muslim philosopher, known to Europe as Averroes, established clearly the great distinction between two kinds of apprehensible human experience : on the one hand, our experience of nature as we recognize it through our senses, whence comes our capacity to measure and to count (and with that capacity all that it brought in the way of new events and new explanations); and on the other hand, our immediate and imminent experience of something more real, less dependent on thought or on the processes of the mind, but directly given to us, which I believe to be religious experience. Naturally, since our brain is material, and its processes and all the consequences of its processes are material, the moment that we put either thought or spiritual experience into words, this material basis of the brain must give a material presentation to even the highest, most transcendent spiritual experience. But men can study objectively the direct and subjective experiences of those who have had spiritual enlightenment without material intervention.
It is said that we live, move and have our being in God. We find this concept expressed often in the Koran, not in those words of course, but just as beautifully and more tersely. But when we realize the meaning of this saying, we are already preparing ourselves for the gift of the power of direct experience. Rumi and Hafiz, the great Persian poets, have told us, each in his different way, that some men are born with such natural spiritual capacities and possibilities of development that they have direct experience of that great love, that all-embracing, all-consuming love, which direct contact with reality gives to the human soul. Hafiz indeed has said that men like Jesus Christ and Muslim mystics like Mansour [Al-Hallaj] and Bayezid and others have possessed that spiritual power of the greater love; that any of us, if the Holy Spirit ever present grants us that enlightenment, can, being thus blessed, have the power which Christ had, but that to the overwhelming majority of men this greater love is not a practical possibility. We can, however, make up for its absence from our lives by worldly, human love for individual human beings; and this will give us a measure of enlightenment attainable without the intervention of the Holy spirit.
Those who have had the good fortune to know and feel this worldly, human love should respond to it only with gratitude and regard it as a blessing and as, in its own way, a source of pride. I firmly believe that the higher experience can to a certain extent be prepared for by absolute devotion in the material world to another human being. Thus from the most worldly point of view and with no comprehension of the higher life of the spirit, the lower, more terrestrial spirit makes us aware that all the treasures of this life, all that fame, wealth and health can bring are nothing beside the happiness which is created and sustained by the love of one human being for another. This great grace we can see in ordinary life as we look about us, among our acquaintances and friends.
But as the joys of human love surpass all that riches and power may bring a man, so does that greater spiritual love and enlightenment, the fruit of that sublime experience of the direct vision of reality which is God's gift and grace, surpass all that the finest, truest human love can offer. For that gift we must ever pray.
Now I am convinced that through Islam, through the idea of Allah, as presented by Muslims, man can attain this direct experience… which no words can explain but which for him are absolute certainties. I have not discussed experience of this order with non-Muslims, but I have been told that Buddhists, Brahmins, Zoroastrians and Christians I have often not heard it of Jews, except perhaps Spinoza-have also attained this direct, mystical vision. I am certain that many Muslims, and I am convinced that I myself, have had moments of enlightenment and of knowledge of a kind which we cannot communicate because it is something given and not something acquired.
To certain extent I have found that the following verse of the Koran, so long as it is understood in a purely nonphysical sense, has given assistance and understanding to myself and other Muslims. However, I must warn all who read it not to allow their material critical outlook to break in with literal, verbal explanations of something that is symbolic and allegorical. I appeal to every reader, whether Muslim or not, to accept the spirit of this verse in its entirety:
Allah is the light of the heavens and the earth; His light is as a niche in which is a lamp, and the lamp is in a glass, the glass is as though it were a glittering star; it is lit from a blessed tree, an Olive neither of east nor of the west, the oil of which would well-nigh give light though no fire touched it, – light upon light – Allah guides to His light whom He pleases; and Allah strikes out parables for men; and Allah all things doth know. – Quran Chapter Light 24:35
Just think! At this place there is present such an oil, which produces the light of great intensity. For instance, the electric bulb here, which illuminates before you, that you can see. But that light is of the world. In the lamp of your soul (ruh), there is an abundant amount of oil, but if you do not enlighten it with a matchstick, how can there be an illumination? For how long will you keep wasting in vain and in ignorance the remaining life of yours?
Acquaint yourselves with esoteric knowledge (batini 'ilm).
You are not practicing 'ibadat. This Ismaili faith (deen) is a faith par excellence, but you do not understand it, and hence you get guided on to the faiths of others. Get informed of your faith. You are being deceived by Satan. You just realize that you have gems in your hands.
You are going in other's faiths, but they are exoteric faiths (Zaheri deen). In all those faiths, one performs exoteric 'ibadat, that which is done by the body, by the flesh. 'Ibadat by the tongue can be performed even by the animals. What is the use of that? Cows, bullocks etc. all have ears, tongue and body; so what is the difference between you and the bullocks? Like human beings, dogs and other animals too possess a body. They also eat, go to jungle, move, walk and run, and go where there is meat or other food and keep running for females. So, what difference is there between you and the animals like dogs etc..?
Your nobleness and your whole life are for you to recognize the soul. The lamp of Allah's Noor is in you. It is in your hands. That lamp is in all of you. You should look towards it. Enquire of it. If you do not enquire of it, how would you know? God has allotted time for carrying out business activity. The day is for man to work and earn.
Why has God created the Night? The Night is not totally for sleeping, but is for 'ibadat also, and in 'ibadat is contained the happiness.
5 Responses to Aga Khan III, Mowlana Sultan Mahomed Shah on Spirituality