Life – An Exalted Destiny – Aga Khan III
Layla tul Qadr — The Night of Destiny and Power
The Holy Quran was revealed on the 23rd night of Ramadan celebrated as Layla tul Qadr — the Night of Power when Angel Gabriel descended to deliver God's message to Prophet Muhammad, peace be upon him:
Iqra, bi-ismi rabbika allathee khalaq

Khalaqa al-insana min AAalaq

Iqra, warabbuka al-akram

Allathee AAallama bil qalam

AAallama al-insana ma lamyaAAlam
Read in the name of your Lord Who created.

He created man from a clot.

Read and your Lord is Most Honorable,

Who taught (to write) with the pen

Taught man what he knew not.
Surat Al-Qadr – The Power, Quran 97 – سورة القدر
إِنَّا أَنزَلْنَاهُ فِي لَيْلَةِ ٱلْقَدْرِ
أَدْرَاكَ مَا لَيْلَةُ ٱلْقَدْرِ وَمَآ
لَيْلَةُ ٱلْقَدْرِ خَيْرٌ مِّنْ أَلْفِ شَهْرٍ
تَنَزَّلُ ٱلْمَلاَئِكَةُ وَٱلرُّوحُ… Continue reading
Ramadan Kareem Mubarak!
"Be it man or woman, each of you is equal to the other."
The holy month of Ramadan begins on the first day of Ramadan which is the ninth month of the Islamic lunar calendar. This year it starts on June 18, 2015 which equates to Ramadan 1, 1436 A.H. After the moon's lunar cycle of 30 days or so, the end of the fasting month is celebrated by Eid where the devout celebrate after having completed the month of fasting successfully from dawn to sunset each day.  The end of this month starts with the morning prayers on Eid-ul Fitr, greetings are exchanged with everyone and children are given an Eidi, a gift of money followed great rejoicing and feasting and picnics.
The great Muslim poet… Continue reading →
Ali Bin Abu Talib (11-40/632-661), 1st Imam
"Ali, the son of Abu Talib and the cousin of the Prophet was born on Friday, the 13th Rajab in the 28th year of A'am al-fil (the year of elephants) or 600 A.D. inside Kaba in Mecca. He was brought up under the subtle care and affection of the Prophet. Ali himself cherished the memory of his childhood by saying: "The Prophet brought me up in his own arms and fed me with his own morsel. I followed him, wherever he went, like a baby-camel which follows its mother. Each day a new aspect of his character would beam out of his noble person and I would accept it and follow it as commanded." Ibn Abid Hadid (d. 655/1257) quotes Ibn Abbas as… Continue reading →
This gallery contains 2 photos.
21st Year Anniversary of Amaana.org on March 21, 2015, Alhamduli'Llah!
Please click on image to view full size of the image and then click on the link above it to view the article connected with it! Thanks!
20th Anniversary Files click here which include many articles from the older version of Amaana.org! Mubarak!

20th Anniversary Files click here which include many articles from the older version of Amaana.org not included here! Mubarak!
Speech by His Highness the Aga Khan "Global Education and the Developing World"
— The Peterson Lecture addressed to the International Baccalaureate 40th Annual Meeting
Atlanta, Georgia
April 18, 2008
Video of this speech at AKDN: http://www.akdn.org/videos_detail.asp?VideoId=9
Dr. Monique Seefried, Chairman of the IB Board of Governors
Members of the Board of Governors
Mr. Jeffrey Beard, Director General of the IB
Educators and Students from the IB Community
Distinguished Guests
What a great privilege it is for me to be with you today – I have looked forward to this gathering for a long time. And I am particularly grateful to Monique Seefried for her generous introduction, and for so beautifully describing both the local and the global context in which we meet.
This is a particularly significant occasion… Continue reading →
His Highness the Aga Khan Speech at the Foundation Ceremony of the Museum at Humayun's Tomb, Dehli, India
April 7, 2015
Bismillah-ir-Rahim-ir-Rahim
Honorable Minister of Tourism and Culture Dr. Mahesh Sharma
Secretary Mr. Ravindra Singh
Secretary Dr. Lalit Panwar
You have been most generous with your comments this afternoon and I thank you warmly for the encouragement you have given to the people of the Trust for Culture and myself. And I would like to begin these comments by repeating what I said when the foundation-stone was laid sometime ago of the restoration of the Humayun's Tomb.
We are a partnership. We are not working alone with the Trust for Culture. We are working in a magnificent partnership between public authority and private initiative.
And if we did not have… Continue reading →
Beyond Polemics and Pluralism: The Universal Message of the Qur'an[1]
— Reza Shah-Kazemi
Editor's Note: It was a delight to hear Dr. Shah-Kazemi's lecture on the subject in person yesterday. Please view my picture with him below! Yay! My sincere thanks to Dr. Shah-Kazemi for providing this article and I am honored to present it on the Ismaili Web. Alhamduli'Llah! Please also view video of this presentation made in June 2014 at the end of this article and I just added his presentation at FIU on March 31, 2015. Thank you!

♥
And they say: None entereth Paradise unless he be a Jew or a Christian. These are their vain desires. Say: Bring your proof if ye are truthful.
Nay, but whosoever submitteth his purpose to God, and he is… Continue reading →
Imam and Imamat
By Prof. Dr. Allama Nasir al Din Nasir Hunzai
In his firman to Surat Jamat on 12th October, 1903, NOOR Mowlânâ Sultân Muhammad Shâh (a.s.) said "If you always read religious books, you will come to know that the throne of Imamat is continuous, perpetual and everlasting." Therefore, the subjects of Imam and Imamat are of paramount importance for all believers of God.
The verse (36:12) reveals that God has encompassed everything – intellectual, spiritual and physical – in the light of the most noble Imam. Therefore, according to the principles of Qur'anic wisdom, it is clear that all subjects are contained in the subject of Imâmat and all words in the word Imâm. [Source: Recognition of Imam (Imâm – Shinâsi) Part I & II]
Mowlana Hazar Imam's 78th Birthday – Khushiali Mubarak! Salgirah Mubarak! (Birthday Blessings!) – December 13, 2014
"The existence of a spiritual guide is like a ladder leading towards God and how can an arrow fly in speed towards its destination without the bow? — Rumi
| | |
| --- | --- |
| Event | The Shia Imam's Birthday – Descendant of Prophet Muhammad (pbuh) |
| What | The Holy Imam, His Highness the Aga Khan's Birthday Celebrations – Khushiali Mubarak! Salgirah Mubarak! (Birthday Blessings!) |
| Why | The birthday of the Imam of the Time of the Shia Ismaili Muslims is celebrated to honor his service to God in spreading peace and understanding amongst his community and the peoples of the world. This tradition has continued for over 1400 years since the time of Hazrat Ali (a.s. on whom be peace) the… Continue reading |
Social Responsibility as Explained in the Quran
by Dr. Ali S. Asani
Ali Asani (AKH 73-84) was the recipient of one of His Highness the Aga Khan's personal scholarships while studying at Harvard. Since finishing his doctorate in 1984, he has pursued an academic career at his alma mater where he is currently Professor of the Practice of Indo-Muslim Languages & Cultures. Ali chose to speak about Islam and Social Responsibility at the Boston alumni dinner in November 1999.
It is not righteousness that you turn your faces towards the East and the West, but righteous is the one who believes in Allah, and the Last Day, and the angels and the Book and the prophets and gives away wealth out of love for Him (God) to the near of… Continue reading →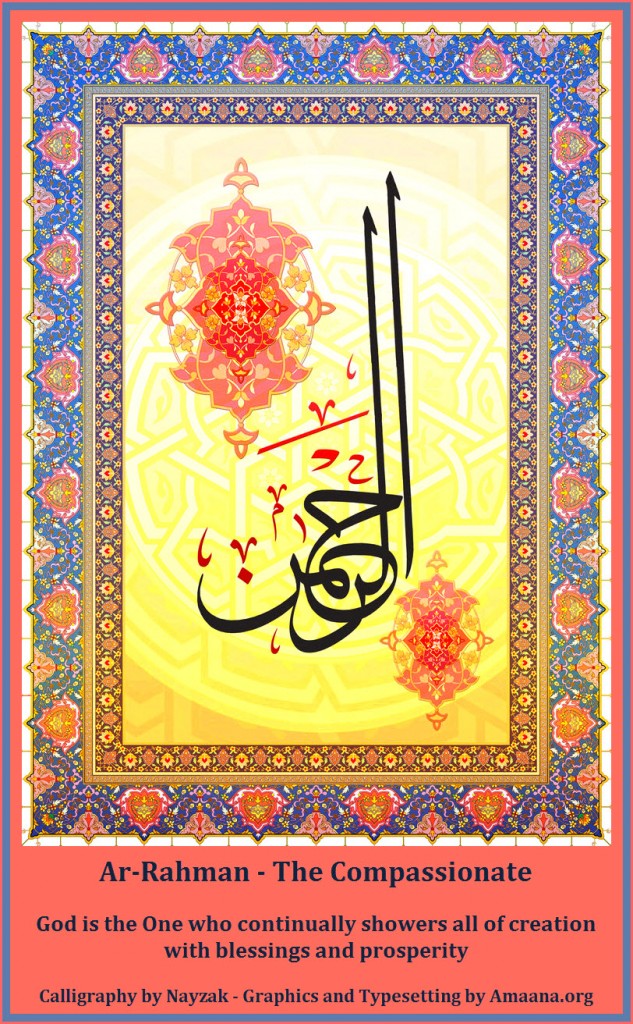 The Phenomenology of Islam Lecture 1
JALAL and JAMAL
Introduction by Katherine Schimmel
In my right hand I hold a small, square, black metal box. It is very dusty now from years of non-use and looks nothing like the sleek recorders of today. But this tape recorder and I have a shared history. It is the same voice recorder that I used in Egypt almost twenty years ago on the hot, noisy streets of Cairo while conducting graduate field research there. Later, it was the faithful instrument I used to playback what amounted to hours and hours of Arabic interviews once I arrived back in Cambridge to write my thesis. I turn the small device over and over again in my hands, examining it from all sides, its well-worn buttons,… Continue reading →