Life – An Exalted Destiny – Aga Khan III
Nawruz Mubarak Everyone! Rejoice!
March 21st is Imam Hazrat Ali's solar birthday anniversary! Please read on the following pages to see how important this New Year celebration is for the Ismailis and the whole Universe, especially since this year it falls on the New Moon and Total Solar Eclipse on this Equinox day! How Divine!
I am especially happy as this Navroz will be the 21st anniversary of Amaana.org on March 21st 2015!
If Nawruz is a festival of joy and delight,
it is through your light that it has come to be so.

— Prince Amir Tamim al-Fatimi, son of Imam al-Muiz
"Factually the number of months in the eyes of God, in the Book of God from the day He created the earth and the heaven, are… Continue reading →
Aspects of Ismaili Theology: The Prophetic Chain and the God Beyond Being by Wilferd Madelung
This is an edited version of an article that was originally published in Ismaili Contributions to Islamic Culture, eds. Seyyed Hossein Nasr (1977), Imperial Iranian, Academy of Philosophy, Tehran, pp: 53-65.
The Ismailis appeared first on the stage of the history of Islam in the second half of the third century AH /ninth century CE and spread with astonishing rapidity. Centred originally in Khuzistan in south-western Iran, its missionaries carried its message throughout the Islamic world from Transoxania and the Indus valley to the Maghrib. In eastern Arabia, the Yaman and in the eastern Maghrib, its converts became numerous enough to set up their own political communities under the sovereignty of the Expected… Continue reading →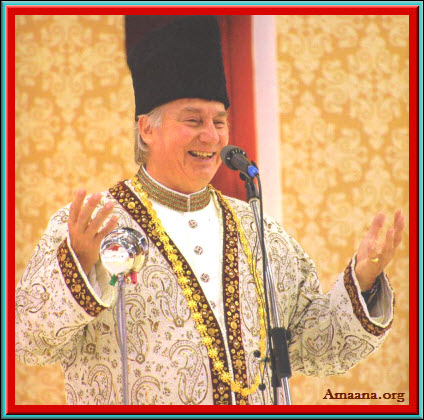 An ode for
Imam-e-Zaman
By Nadim Pabani – Inspired by the Navroz Spring.
An ode for Imam-e-Zaman we sing.
Seeing the birds outside take flight,
Line by line we begin to write.
So now we wish to begin this rhyme,
For the Master of the Age and Time
To glorify your Light that shines,
We are moved to write each line.
But how can human language
Begin to describe, begin to capture, begin to give justice to your greatness,
To quote the words of the Prophet, a Muslim void of love for Ali is faithless.
But this Murid will try his very best,
To help others realise that you are the Light of the East and West,
You refrain from seeking worldly might,
Even though, this is your… Continue reading →
Nasir-i Khusraw Poetry
Nasir Khusraw is acknowledged as one of the foremost poets of the Persian language. Born in the Balkh district of Central Asia in 394/1004, Nasir was inspired from an early age by a tremendous thirst for knowledge. His intellectual abilities brought him much fame, a promising career in government service, and a life of ease and pleasure. But he was always dissatisfied by a lack of meaning and purpose in his life until one day, at the age of 42, he was dramatically transformed by a visionary dream. He converted to Ismailism, renounced his worldly life and embarked on his famous seven-year journey to Egypt. Nasir arrived in Cairo in 439/1047, where he stayed for three years and became acquainted with Ismaili dignitaries such as Al… Continue reading →
By Dr. Sheikh Khodr Hamawi

Part I
Chapter I
Comparative Study of Religions
1- Judaism
2- Christianity
3- Islam
Chapter II Islam and its Divisions
1- The Sunna
2- The Shi'a
3- The Theology of Sunna and Shi'a
Chapter III Shi'a and its Sub divisions
Part II
Doctrine of Ismailism
Chapter I Potentiality and Actuality
Chapter II Existence in Power
Chapter III Existence in Action (by force)
Chapter IV Knowledge of Truth
Chapter V Implementation of faith by Action
A- Shariat
1- Islam
2- Imam
B- Tariquat
1- Ta'at (Obedience)
2- Tabligh (Revelation)
3- Bai'at (Allegiance)
C- Hakikat
1- Amanat (Trust)
2_ Tawhid (Monotheism)
D-Maarifat
Al-Irfan (Knowledge)
1- Unity of the Universe
2- The greatness of Man
3- The Human Brotherhood
4- Evolution… Continue reading →

The Tolerance of the Fâtimids toward "The People of the Book" (Ahl Al-Kitâb)

By Diana Steigerwald
"The first principle is to comprehend, to be convinced of, to uphold the fact
that  there  is  no  conflict  between  Islam  and  Christianity.  There  may  be
conflict on political issues, there may be conflict on economic issues, there
may be conflict on social issues but the faith of Islam is not in conflict with
the faith of Christianity and that is so clearly specified in Islam and all I need
to do this morning is to mention the words to you Ahl al-Kitâb, the People of
Book.  The  Book  is  Allah's  revelation  to  man,  revealed  to  man  through
Allâh's Prophets of which Prophet Muhammad was the last Prophet." (Karîm
Âghâ Khân… Continue reading →
Layla tul Qadr falls on the 23rd of Ramadan and this is a significant event in Muslim history as not only did Prophet Muhammad (pbuh) receive his first revelation that culminated in the Holy Quran, but this day marks the anniversary of his Prophethood on earth. Muslims all over the world spend this night in prayers as it holds special Barakah for those in prayer.
"In the name of God, the Beneficent the Merciful
"Indeed We sent it [the Holy Quran] down on the Night of Power. What will convey to you what the Night of Power is? Better is the Night of Power than a thousand months. In that Night the angels and the Spirit descend by the permission of their Lord for every errand. Peace it… Continue reading →
Scroll below to play the video of this speech
Audio of speech at Nanowisdoms
Aga Khan : 'The Qur'an and its Creative Expressions'
His Highness the Aga Khan The Ismaili Centre, London October 19, 2003
Your Excellencies,
Your Worship,
Distinguished Scholars and Guests,
Ladies and Gentlemen,
An assembly of the wise and learned is a privileged occasion. I am, therefore, immensely happy to be with you this morning as you begin your deliberations on a theme which, though of perennial interest, holds a special significance at a time that calls for enlightened encounters among faiths and cultures. Whatever its vernacular forms, the language of art, more so when it is spiritually inspired, can be a positive barrier-transcending medium of discourse, manifesting the depths of the human spirit.
The venue for… Continue reading →
Abu Mo'in Hamid al-Din Nasir ibn Khusraw is an important figure in the development of Ismaili philosophy. Much of his biography and philosophical ideology has been obtained through fragmented texts, both in poetry and prose.  Born into a politically connected family, Khusraw was well-educated in the sciences and humanities.  Having spent most of his life occupying prestigious positions within the Saljuq court, Khusraw converted to the Ismaili faith at the age of forty after careful study.  He spent the rest of his life writing and advocating for the Ismaili faith, and eventually was forced into exile by Sunni authorities.
Consistent with other Ismaili philosophers, Khusraw's cosmology is heavily inspired by Neoplatonism.  His metaphysics describes a God from which… Continue reading →