Life – An Exalted Destiny – Aga Khan III
Imam and Imamat
By Prof. Dr. Allama Nasir al Din Nasir Hunzai
In his firman to Surat Jamat on 12th October, 1903, NOOR Mowlânâ Sultân Muhammad Shâh (a.s.) said "If you always read religious books, you will come to know that the throne of Imamat is continuous, perpetual and everlasting." Therefore, the subjects of Imam and Imamat are of paramount importance for all believers of God.
The verse (36:12) reveals that God has encompassed everything – intellectual, spiritual and physical – in the light of the most noble Imam. Therefore, according to the principles of Qur'anic wisdom, it is clear that all subjects are contained in the subject of Imâmat and all words in the word Imâm. [Source: Recognition of Imam (Imâm – Shinâsi) Part I & II]
Prophet Muhammad Birthday Milad un Nabi — Mevlût
By Annemarie Schimmel
In the Turkish tradition, the best-known early mevlût was written by Süleyman Chelebi of Bursa around 1400. But more than a century earlier, Yunus Emre had already promised heavenly reward to those who recite mevlût, which shows — provided the verses are genuine — that mevlûts were popular among the Turks at a rather early stage. Süleyman Chelebi's poem is written in rhyming couplets, a literary from adopted from the Persian. Its rhythm is simple; the meter is the same as that used primarily in Persian mystical and didactic epics such as 'Attar's Mantiq ut-tair and Rumi's Mathnawi. The language is plain, almost childlike, and therefore the poem has not lost anything of its charm even today. (But even this poem was considered… Continue reading →
Fatima Az-Zahra (a.s.)
By Syed H. Akhtar
When writing about the greatness of a personality, one needs a gold standard with which to compare the strengths and weaknesses of that individual. However, if that person is herself the gold standard, then it makes it impossible to adequately describe her greatness. Hazrat Fatima az-Zahra (A) was such a personality. Her merits are unmatched by any woman known in history and Allah swt himself testifies in the Qur'an about her purity and piety.
It is related that Imam Jafar As-Sadiq (A) said: "Fatima has nine names near (to) Allah swt, they are: Fatima, As-Siddiqa (the honest), Al-Mubarakah (the blessed one), At- Tahirah (virtuous), Az-Zakiyah (the chaste), Ar-Radhiyatul-… Continue reading →
World's Biggest Pilgrimage Now Underway, And Why You've Never Heard of it!
By Sayed Mahdi al-Modarresi, Huffington Post UK
It's not the Muslim Hajj, or the Hindu Kumbh Mela. Known as Arbaeen, it is the world's most populous gathering and you've probably never heard of it! Not only does the congregation exceed the number of visitors to Mecca (by a factor of five, in fact), it is more significant than Kumbh Mela, since the latter is only held every third year. In short, Arbaeen dwarfs every other rally on the planet, reaching twenty million last year. That is a staggering 60% of Iraq's entire population, and it is growing year after year.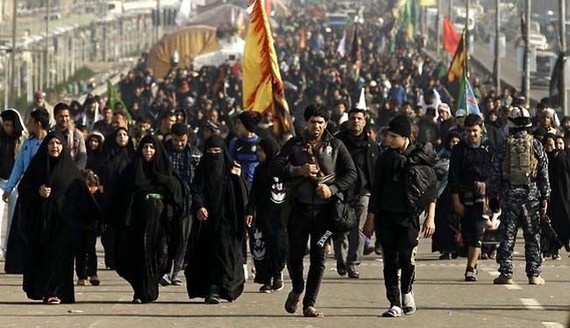 Above all, Arbaeen is unique because it takes place against the backdrop of chaotic and dangerous… Continue reading →
Mowlana Hazar Imam's 78th Birthday – Khushiali Mubarak! Salgirah Mubarak! (Birthday Blessings!) – December 13, 2014
"The existence of a spiritual guide is like a ladder leading towards God and how can an arrow fly in speed towards its destination without the bow? — Rumi
| | |
| --- | --- |
| Event | The Shia Imam's Birthday – Descendant of Prophet Muhammad (pbuh) |
| What | The Holy Imam, His Highness the Aga Khan's Birthday Celebrations – Khushiali Mubarak! Salgirah Mubarak! (Birthday Blessings!) |
| Why | The birthday of the Imam of the Time of the Shia Ismaili Muslims is celebrated to honor his service to God in spreading peace and understanding amongst his community and the peoples of the world. This tradition has continued for over 1400 years since the time of Hazrat Ali (a.s. on whom be peace) the… Continue reading |
His name was Muhammad Sultan, also known as Sir Sultan Mahomed Shah, the Aga Khan, G.C.S.I., G.C.I.E., G.C.V.O., G.C.M.G., LL.D., was born at Honeymoon Lodge in Karachi on Friday, the 25th Shawal, 1294/ November 2, 1877 at 5:30 pm. When the news of his birth was routed to the Aga Khan I in Bombay, he said: "Name him Muhammad Sultan. He would be a Sultan (emperor) in the world. His period would see wonderful events, and would earn distinguished position in the world."
Sultan Mahomed Shah, Aga Khan III, was the 48th Imam of the Shia Ismaili Muslims. He was one of the founders and the first president of the All-India Muslim League, and served as President of the League of Nations from 1937-38.
He grew up under the subtle… Continue reading →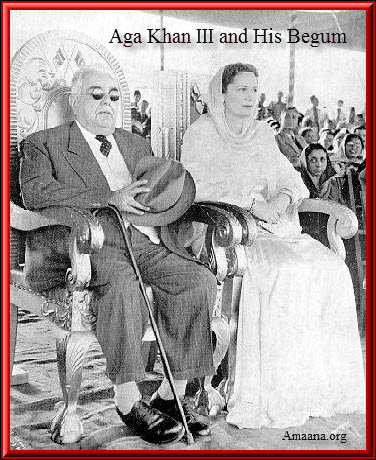 48th Imam – Direct descendant of Prophet Muhammad (pbuh)
It is my great honor and pleasure to present, on his birthday anniversary which falls on November 2nd, the gems from our beloved 48th Imam Mowlana Sultan Mahomed Shah Aga Khan III, a collage of his wonderful words of wisdom.  His life has been a great legacy for humanity.
His Highness the Aga Khan — Mowlana Hazar Imam, pays tribute to his grandfather:
"Many  many memories come to our minds as we think of him. He achieved in his life, for our community, that which could only have been accomplished normally in a period of many generations. The tributes that the world has paid him bear honest testimony to his great life and work." – Takht Nashini, Karachi, January 23, 1958… Continue reading →
Layla tul Qadr – The Night of Power and Destiny | Ismaili Web Amaana.
On this blessed Night of Power, on Saturday July 19, 2014, Ramadan 23, 1435, let us strive to earn the Grace of our Lord and receive the Baraqah (blessings) to receive the Light and the Peace, Ameen, so we can know ourselves and know our Lord! This Maarifa – spiritual knowledge, gnosis, is the goal of every believer and we have a Living Guide to help us!
On the Night of Power, power belongs to us
So long as the form of the Beloved's image is with us,
for us the whole of life is a joyful parade.
Where friends unite together, there in the midst of the house,
by Allah, is a spreading plain;… Continue reading →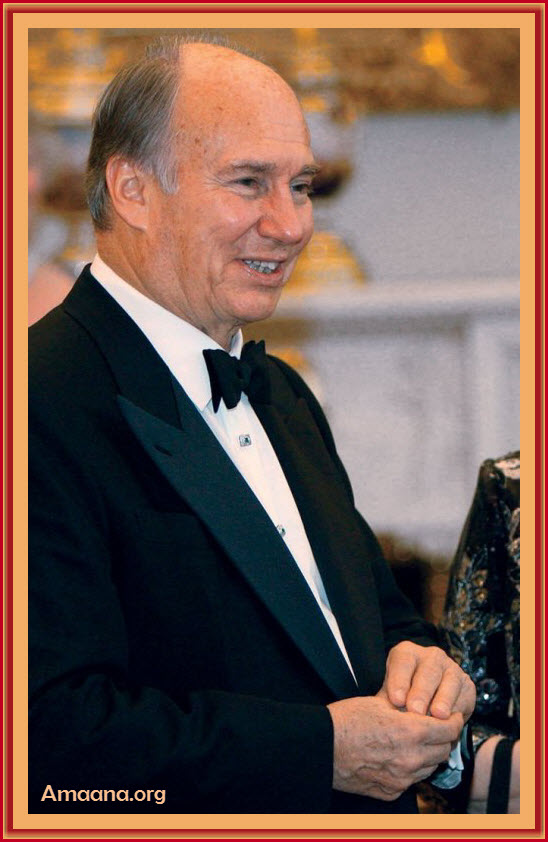 Imamat Day 2014: Imamat Day – The Shia Imam's Rope of 57 years of Imamat as the a Direct Descendent of Prophet Muhammad (pbuh)
July is the 7th month, 49th Imam is 7 times 7. It's been 7 years since the Golden Jubilee. This is the 57th anniversary of Imamat Day. He became an Imam in 1957!
2014 – 14 is 7 times 2. This picture was taken on July 7th when Queen Elizabeth II hosted a dinner at Buckingham Palace to mark the Golden Jubilee of Prince Karim Aga Khan IV, July 7, 2008. There is lot of symbolism of the number 7 and celestial significance of this anniversary as it is 7-11 and I am sure our readers will come up with more! Please use comments below to… Continue reading →
Interview – The Forgotten Children of Abraham
by Katherine Schimmel Baki
Calligraphy above — Quran 16:125
ادْعُ إِلَىٰ سَبِيلِ رَبِّكَ بِالْحِكْمَةِ وَالْمَوْعِظَةِ الْحَسَنَةِ ۖ وَجَادِلْهُم بِالَّتِي هِيَ أَحْسَنُ
Invite (everyone) to the Way of thy Lord with wisdom and beautiful preaching; and argue with them in ways that are best and most gracious.
Written in Naskh (green part) and Thuluth (black part) — by Nayzak — Amaana.org
"It is compulsory both in the West and the East to move beyond stereotypes and demonization, to educate the next generation to be global citizens who have a healthy respect for other cultures and religions." — John L. Esposito

John L. Esposito
There is the well-known Qur'anic verse: A goodly word is like a goodly tree (24:26, Yusuf Ali translation), which my late aunt, Annemarie… Continue reading →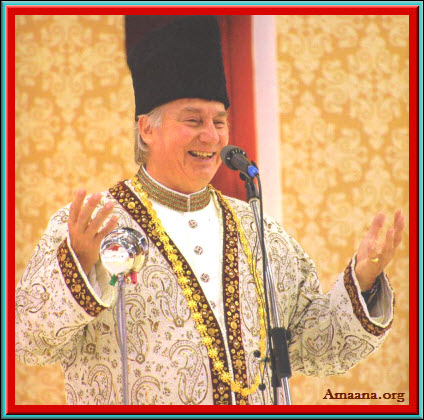 An ode for
Imam-e-Zaman
By Nadim Pabani – Inspired by the Navroz Spring.
An ode for Imam-e-Zaman we sing.
Seeing the birds outside take flight,
Line by line we begin to write.
So now we wish to begin this rhyme,
For the Master of the Age and Time
To glorify your Light that shines,
We are moved to write each line.
But how can human language
Begin to describe, begin to capture, begin to give justice to your greatness,
To quote the words of the Prophet, a Muslim void of love for Ali is faithless.
But this Murid will try his very best,
To help others realise that you are the Light of the East and West,
You refrain from seeking worldly might,
Even though, this is your… Continue reading →