Life – An Exalted Destiny – Aga Khan III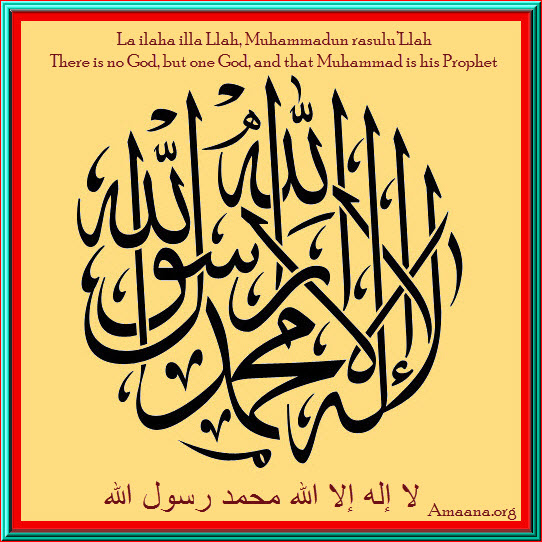 Understanding More about Islam
Harvard Graduate School of Education
October 4, 2001
by Marvin Pittman
"La ilaha illa Llah, Muhammadun rasulu'Llah"
"I witness that there is no God, but one God, and that Muhammad is his prophet."
—The Shahada, Islam's Declaration of Faith
As faith plays a strong role in America's conscience in light of the events of September 11, the American public also focuses now on Islam. Even though an estimated 8-10 million Muslims—made up of people from a wide variety of ethnic backgrounds and national origins—take part in many avenues in American society, the American public at large remains greatly prejudiced against, misunderstanding, and ignorant of Islam.
On October 3, the Harvard Graduate School of Education explored the complex issues surrounding Islam in the panel discussion "Understanding… Continue reading →

Understanding the Quran
— Diana Steigerwald
California State University (Long Beach)
'I  believe  in  one  God,  and  Muhammad,  an Apostle  of  God'  is  the  simple  and  invariable profession of Islām. The intellectual image of the Deity has never been degraded by any visible idol; the honor of  the Prophet has never  transgressed the  measure  of  human  virtues;  and  his  living precepts  have  restrained  the  gratitude  of  his disciples within the bounds of reason and religion. (Gibbon  and al., 54)
There will come a time when nothing will remain of the Qur'ān but a set of rituals. And nothing will be more common than attributing falsities to God and the Prophet. — 'Alī Ibn Abī Tālib
The Qur'ān contains a powerful message which generates a material and spiritual response. From its original… Continue reading →
When students feel adrift, spiritual guidance might help
Emilio Morenatti/AP Photo
I think religion should be taught in college. I'm not talking about "religious studies," that is, the study of the phenomenon of religion. I'm talking about having imams, priests, pastors, rabbis, and other clerics teach the practice of their faiths. In college classrooms. To college students. For credit. I think religion should be taught in college because I believe it can help save floundering undergraduates. I'm not talking about "saving" them in Christian sense. I'm talking about teaching them how to live so they do not have to suffer an endless stream of miseries.
If you had asked me when I was a professor whether universities should teach… Continue reading →
 Partners in Pluralism: Why the Aga Khan loves Canada
The Aga Khan's love for Canada is the sort of love shared by two friends who always know what the other is thinking. Canada is a place that shares wholeheartedly the Aga Khan's vision for a global community built on the values of pluralism, education, and social action.
As the first religious leader to address Canada's Parliament, it was perhaps appropriate that the Aga Khan's parting words on 27 February were a verse from the Qur'an. The verse – which says that humankind was 'created from a single soul' – voices a sentiment the Aga Khan called the most 'beautiful expression about the unity of the human race' he knows.
The Aga Khan's respect for pluralism comes not only from… Continue reading →
The Aga Khan and Brown University President Christina Paxson in Conversation
PROVIDENCE — Speaking at Brown University on Monday, the Aga Khan — the spiritual leader for some 15 million Shia Ismaili Muslims worldwide — focused on the potential of social media and Internet-based technology to bridge cultural divisions.
But the 77-year-old Harvard graduate, whose appearance was part of the university's… Continue reading →
Aga Khan emphasizes collective responsibility, cracks jokes in talk on tradition and technology
By Caroline Kelly
Photo  – Brittany Comunale / Herald
There was room for both social media jokes and a thoughtful discussion of modern communication in Prince Karim Aga Khan IV's lecture yesterday.
Prince Karim Aga Khan IV '96 hon. P'95 said during a lecture Monday that the hardest part of speaking at Brown again since delivering the baccalaureate address in 1996 was "that you have to explain what you got wrong the first time." It was hard to imagine that the thorough, well-spoken 49th hereditary imam of Nizari Ismailism would be prone to carelessness.
But he insisted. "I think I actually underestimated what happened in the 18 years ahead," he said, acknowledging that back… Continue reading →
Address to the Canadian Parliament — Ottawa, Canada
February 27, 2014
View video of speech at bottom of text!
Bismillah-ir-Rahman-ir-Rahim
Mr Prime Minister,
Speaker Kinsella,
Speaker Scheer,
Honourable Members of the Senate and House of Commons,
Chief Justice of the Supreme Court
Honourable Members of the Diplomatic Community
Distinguished Guests,
Ladies and Gentlemen:
The Prime Minister's generous introduction has been very kind. I am grateful for this invitation, for our association, and for so thoughtfully enabling leading representatives of our community and institutions, around the world, to join us on this occasion. I am thankful they will have this opportunity to see for themselves why Canada is a leader in the community of nations.
I must also thank you, Prime Minister, for inviting me to… Continue reading →

The Tolerance of the Fâtimids toward "The People of the Book" (Ahl Al-Kitâb)

By Diana Steigerwald
"The first principle is to comprehend, to be convinced of, to uphold the fact
that  there  is  no  conflict  between  Islam  and  Christianity.  There  may  be
conflict on political issues, there may be conflict on economic issues, there
may be conflict on social issues but the faith of Islam is not in conflict with
the faith of Christianity and that is so clearly specified in Islam and all I need
to do this morning is to mention the words to you Ahl al-Kitâb, the People of
Book.  The  Book  is  Allah's  revelation  to  man,  revealed  to  man  through
Allâh's Prophets of which Prophet Muhammad was the last Prophet." (Karîm
Âghâ Khân… Continue reading →
The following is the first chapter from Dr. Diana Steigerwald's wonderful book Diversity in Islamic History. It is her wish to provide a free copy to each and every person in the world so that they would understand Islam and its history and so make educated opinions of what Islam really is.

The PDF version of the chapters has now been made available for download for free. All I ask in return is if you can please log your vote of thanks and comments at the bottom of this article to let Diana know in your own words, what you think about this chapter and also the rest of her book.
– Nina Jaffer, Editor and Publisher, The Ismaili Web Amaana.org
Biography
Dr. Steigerwald is an expert… Continue reading →
Karachi, 19 December 2013
His Excellency, Dr Ishrat Ul Ebad Khan, the Governor of Sindh;
His Excellency, Qaim Ali Shah, the Chief Minister of Sindh;
Acting Chairman, Dr Robert Buchanan and Members of the Board of Trustees;
President Firoz Rasul;
Provost, Deans, Faculty and Staff of the University;
Members of the Diplomatic Corps;
Members of the National and Provincial Assemblies;
Parents, supporters and distinguished guests;
and Graduands:
As Salaam–o Alaikum
It is truly a great pleasure for me to celebrate this milestone moment with all of you today. It is a significant time for our University and for this country.
As Chancellor, I am delighted, first of all, to extend my warmest congratulations to our graduands and to your families. Bravo! We wish you enormous success… Continue reading →
It is my great honor and pleasure to present, on his birthday anniversary which falls on November 2nd, the gems from our beloved 48th Imam Mowlana Sultan Mahomed Shah Aga Khan III, a collage of his wonderful words of wisdom.  His life has been a great legacy for humanity.
Here are Mowlana Hazar Imam's words for him:
"Many  many memories come to our minds as we think of him. He achieved in his life, for our community, that which could only have been accomplished normally in a period of many generations. The tributes that the world has paid him bear honest testimony to his great life and work."

 – His Highness the Aga Khan, Takht Nashini, Karachi, January 23, 1958
They are not all alike. Of the People of the Scripture there is a staunch community who recite the revelations of God in the watches of the night, falling prostrate.

They believe in God and the Last Day, and enjoin right conduct and forbid indecency, and vie with one another in good works. These are of the righteous.

And whatever good they do, they will not be denied it; and God knows the pious. (Quran 3: 113-114)

Thou wilt find the nearest of them [the People of the Scripture] in affection to those who believe to be those who say: Verily, we are Christians. That is because there are among them priests and monks, and they are not proud. (5: 82)

I believe in whatever scripture God hath… Continue reading →