Life – An Exalted Destiny – Aga Khan III
Navroz Mubarak! Eid Mubarak! Eid-e Shoma Mobarak!
Sultan Newruz – Imam Hazrat Ali's Solar Birthday Anniversary! Norouz Nawruz Norooz – New Year Blessings! March 21, 2013
Shah Abbas I receiving Vali Muhammad Khan of Bukhara, Chehel Sotun, Isfahan (c.1657)
Cele-
bration

Navroz – New Year, birthday of Imam Hazrat Ali, Newruz Sultan

What

A cross-cultural celebration of the New Year, the first day of the Spring astrological Equinox, solar birthday anniversary of our Imam Ali hence the name Nevruz Sultan, in Turkey Nauruz-i Sultani.

"It was on Navroz that Adam was created, that God made a covenant with the souls, that Abraham destroyed the pagan idols, that the Prophet of Islam received first revelation, that the Prophet took Ali on his shoulders to smash 360 idols in Mecca, and… Continue reading
Now hath come unto you An Apostle from amongst Yourselves; it grieves him that you should perish; Ardently anxious is he over you: to the believers is he the most kind and merciful. Sura 9-128
By Prof. K. S. Ramakrishna Rao
Head of the Department of Philosophy,
Government College for Women University of Mysore, Mandya-571401 (Karnatika).

Re-printed from "Islam and Modern age", Hydrabad, March 1978
Editor's note: Author of this article is a non-Muslim. Enjoy!

In the desert of Arabia was Mohammad born, according to Muslim historians, on April 20, 571. The name means highly praised. He is to me the greatest mind among all the sons of Arabia. He means so much more than all the poets and kings that preceded him… Continue reading →
Milad-un Nabi Maulid — birthday celebration of our beloved Prophet Muhammad
"And peace on him on the day he was born, and on the day he dies, and on the day he is raised to life" Holy Quran 19:15
Allahuma salli ala Muhammadin wa Aal-e Muhammad
O God! Shower thy blessings on Muhammad and the descendents of Muhammad
Download Salwaat Audio file
Milad-un Nabi or Maulid (Mawlid) is the birthday celebration of our beloved Prophet Muhammad (s.a.s.) and is celebrated by Muslims as Eid-e Milad. Prophet Muhammad was born Arabia in the city of Mecca on the 12th day of Rabi-ul-Awwal, which was Monday the 20th day of April, 571 A.C. This falls on Saturday May 25, 2002 and fell on June 4th last year (2001). [Note: I had written this… Continue reading →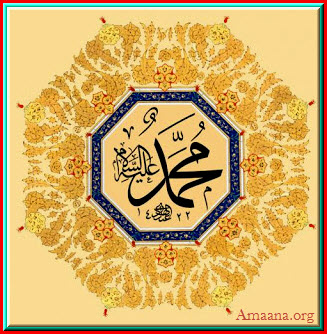 Birthday of Prophet Muhammad
By Amir Gulamhusein
In the Presidential Address given at the International Seerat Conference held in Karachi, Pakistan on 12th March 1976, Mawlana Hazar Imam (s.a.) said:
In the face of this changing world, which was once a universe to us and is now no more than an overcrowded island, confronted with a fundamental challenge to our understanding of time, surrounded by a foreign fleet of cultural and ideological ships which have broken loose, I ask, do we have a clear, firm and precise understanding of what Muslim Society is to be in times to come? And if, as I believe, the answer is uncertain, where else can we search than in the Holy Qur'an, and in the example of Allah's last and final Prophet?"
The Seerat… Continue reading →
Investiture of Imam Ali at Ghadir Khumm
Al-Biruni's Chronology of Ancient Nations 161 AH 707 BC
Yaum-ul-Ghadir Mubarak! Eid Mubarak Everyone!
Eid-e Gadhir is celebrated with great rejoicing by Shia Muslims where they remember Prophet Muhammad's last instructions to the believers. Eid-e-Ghadir is one of the most important days of rejoicing for Shia Muslims around the world as that was the day our beloved Prophet Muhammad (s.a.s.) declared Hazrat Ali's vicegerency at Ghadir e Khumm on his return from his last pilgrimage which is known in history as 'Hajjat-ul-Wida'. This took place on the 18th of Zil-Hajj, in 632 AC, 3 months before his demise, when the Prophet and his followers were returning from his last pilgrimage. Prophet Muhammad announced that he had received an important revelation from Allah, and made a halt at the pond called Ghadir Khumm. A make-shift dias was erected from sadles, sticks and camel skins and as soon as all the pilgrims were gathered, he acted upon the revelation of Ayah-e Gadhir Khumm.
"O Messenger (Prophet), deliver to the people what has been revealed to you from your Lord and if you do not do so then you will not have delivered His message and Allah will protect you from the people. For God does not guide those who reject Faith."Ya 'ayyuhar Rasoolu ballig maa unzila ilayka mir-Rabbik. Wa illam taf'al famaa ballagta Risaalatah. Wallaahu ya'simuka minan naas. Innal'laaha laa yahdilqawmal kaafiriin. Quran 5:67
The Prophet thence declared "'Man Kuntu Mowlahu fa haza Aliyun Mowlahu'  – 'He of whomever I am the Master-Lord (Mowla), Ali is hereby his Master-Lord (Mowla). Prophet Muhammad had been discoursing all the other revelations among the Muslims regarding the tenets and practice of the faith and about material life, and what could this verse of surpassing urgency mean and why was he admonished that if he did not reveal that message then his mission would be unfulfilled! Why had he been warned so strongly by Allah to deliver the message right away.According to Shia tradition, Prophet Muhammad had been apprehensive about declaring his own son-in-law and cousin Ali ibn Abu Talib as his spiritual (Amirul Momineen, Commander of the believers) and secular (Caliph, King) heir, for fear that it would divide the nascent Muslim community. The rich Muslims were already jealous of Hazrat Ali's favored position with Prophet Muhammad (being married to Hazrat Fatima, being his cousin, appointed as Commander at many important battles) and in the above revelation God reassures him.
Ibrahim and Ismail – Eid Mubarak! Celebration of the Submission to the Will of God!


"Ibrahim was of the self-same faith (as Noah) and came to his Lord with a pure heart. He said to his father and to his people, 'What are these that you worship? Would you serve false gods instead of Allah? What do you think of the Lord of the Creation?'
He lifted up his eyes to the stars and said, 'I am sick!' Then, his people turned their backs and went off.

He stole away to their idols and said to them, 'Will you not eat your offerings? Why do you not speak?' With that, he fell upon them, striking them down with his right hand.

The people came running to the scene. 'Would you… Continue reading →

by Jonah Winters
Say: "It is Allah Who guides to the truth. Is then He, Who gives guidance to the truth, more worthy to be  followed,..?" Qur'an: 10:35
Editor's note: In this article, Jonah Winters refers to the Shia who are Twelvers whose Imams stopped after the twelfth Imam and has not included the Shia whose Imams descended from Prophet Muhammad and Hazrat Imam Ali and continue in the present Living Imam the 49th in the lineage, Hazar Imam Karim Al Husayni  Aga Khan. So as he admits in his conclusion, he has not had the full historical story of the Shia either. But the article is an excellent one and should be read by all to bring about understanding of our unique traditions. He says "…I approach the… Continue reading →