Life – An Exalted Destiny – Aga Khan III
The Aga Khan and Brown University President Christina Paxson in Conversation
PROVIDENCE — Speaking at Brown University on Monday, the Aga Khan — the spiritual leader for some 15 million Shia Ismaili Muslims worldwide — focused on the potential of social media and Internet-based technology to bridge cultural divisions.
But the 77-year-old Harvard graduate, whose appearance was part of the university's… Continue reading →
Aga Khan emphasizes collective responsibility, cracks jokes in talk on tradition and technology
By Caroline Kelly
Photo  – Brittany Comunale / Herald
There was room for both social media jokes and a thoughtful discussion of modern communication in Prince Karim Aga Khan IV's lecture yesterday.
Prince Karim Aga Khan IV '96 hon. P'95 said during a lecture Monday that the hardest part of speaking at Brown again since delivering the baccalaureate address in 1996 was "that you have to explain what you got wrong the first time." It was hard to imagine that the thorough, well-spoken 49th hereditary imam of Nizari Ismailism would be prone to carelessness.
But he insisted. "I think I actually underestimated what happened in the 18 years ahead," he said, acknowledging that back… Continue reading →

The 88th Stephen Ogden Lecture delivered by His Highness the Aga Khan at Brown University
View Video with Captions below, courtesy Brown University via Nanowisdoms.org
10 March 2014
Bismillah-ir-Rahman-ir-Rahim
President Paxson,
Ogden Family representatives,
Brown University Faculty, Students and Alumni,
Distinguished Guests,
Ladies and Gentlemen:
Thank you very much, Madame President, for your very kind introduction. It is a great honour for me to give the Ogden Lecture, to be included in the distinguished company of past Ogden Lecturers, and to pay tribute to the memory of Stephen Ogden.
I am also delighted to be present for the opening weekend of Brown's 250th Anniversary, or one might say, the happy conclusion of Brown's first quarter of a millennium!!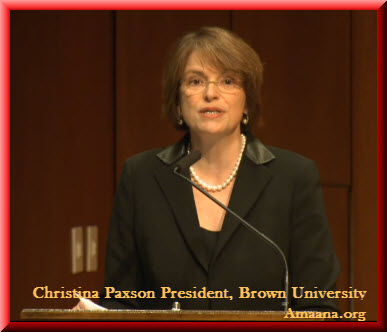 I have long felt a close sense of belonging… Continue reading →
Address to the Canadian Parliament — Ottawa, Canada
February 27, 2014
View video of speech at bottom of text!
Bismillah-ir-Rahman-ir-Rahim
Mr Prime Minister,
Speaker Kinsella,
Speaker Scheer,
Honourable Members of the Senate and House of Commons,
Chief Justice of the Supreme Court
Honourable Members of the Diplomatic Community
Distinguished Guests,
Ladies and Gentlemen:
The Prime Minister's generous introduction has been very kind. I am grateful for this invitation, for our association, and for so thoughtfully enabling leading representatives of our community and institutions, around the world, to join us on this occasion. I am thankful they will have this opportunity to see for themselves why Canada is a leader in the community of nations.
I must also thank you, Prime Minister, for inviting me to… Continue reading →
Aga Khan's Constellation of Accolades – Over 200 honors from 50 countries
Editor's Note: This wonderful synopsis of His Highness the Aga Khan's honors has been compiled by Azeem Maherali.

"We are honouring an exceptional man. We are honouring a great friend of humanity, a courageous visionary, a builder of bridges between religions and society.

His Excellency Dr. Frank Walter Steinmeier, German Foreign Minister, on presenting the 2006 Tolerance Award of the Evangelical Academy of Tutzing, Germany – May 20, 2006
Context:
The Constellation of Accolades represents the various appointments, awards, honours, and tributes His Highness Prince Karim Aga Khan has been endowed with over the course of his 56 years Imamat. Spanning various constellations of human endeavor, addressing multiple and complex issues, these accolades are a testimony… Continue reading →

The Tolerance of the Fâtimids toward "The People of the Book" (Ahl Al-Kitâb)

By Diana Steigerwald
"The first principle is to comprehend, to be convinced of, to uphold the fact
that  there  is  no  conflict  between  Islam  and  Christianity.  There  may  be
conflict on political issues, there may be conflict on economic issues, there
may be conflict on social issues but the faith of Islam is not in conflict with
the faith of Christianity and that is so clearly specified in Islam and all I need
to do this morning is to mention the words to you Ahl al-Kitâb, the People of
Book.  The  Book  is  Allah's  revelation  to  man,  revealed  to  man  through
Allâh's Prophets of which Prophet Muhammad was the last Prophet." (Karîm
Âghâ Khân… Continue reading →
Karachi, 19 December 2013
His Excellency, Dr Ishrat Ul Ebad Khan, the Governor of Sindh;
His Excellency, Qaim Ali Shah, the Chief Minister of Sindh;
Acting Chairman, Dr Robert Buchanan and Members of the Board of Trustees;
President Firoz Rasul;
Provost, Deans, Faculty and Staff of the University;
Members of the Diplomatic Corps;
Members of the National and Provincial Assemblies;
Parents, supporters and distinguished guests;
and Graduands:
As Salaam–o Alaikum
It is truly a great pleasure for me to celebrate this milestone moment with all of you today. It is a significant time for our University and for this country.
As Chancellor, I am delighted, first of all, to extend my warmest congratulations to our graduands and to your families. Bravo! We wish you enormous success… Continue reading →
Mowlana Hazar Imam's 77th Birthday — Khushiali Mubarak! Salgirah Mubarak! (Birthday Blessings!) — December 13, 2013
This is the 7th cycle of the Imamat and so this is a very important birthday as the number 7 is very blessed numeric value in the Muslim and other traditions. This year has been amazingly blessed, as is every year, as we are led by the Proof of God on earth! We offer thanks for this blessing evermore!
| | |
| --- | --- |
| Event | The Shia Imam's Birthday – Descendant of Prophet Muhammad (pbuh) |
| What | The Holy Imam, His Highness the Aga Khan's Birthday Celebrations – Khushiali Mubarak! Salgirah Mubarak! (Birthday Blessings!) |
| Why | The birthday of the Imam of the Time, Mowlana Shah Karim Al-Hussaiyni Hazar Imam, Leader of the Shia Ismaili Muslims is celebrated to honor his service… Continue reading |
Ottawa, 27 November 2013
President Frank and leaders of the Royal Architectural Institute of Canada,
Madame Clarkson
Excellencies
Distinguished Guests
Ladies & Gentlemen
Monsieur le Président, je voudrais vous remercier pour l'honneur que votre institut me fait aujourd'hui. Je remercie Monsieur Baird de m'avoir nommé pour recevoir ce prix si prestigieux et de ces paroles élogieuses.
Je suis profondément flatté de recevoir votre médaille d'or, tout d'abord à cause des personnalités qui me la remettent – mais aussi par l'esprit d'excellence que votre Institut représente. C'est aussi un grand honneur si l'on considère la qualité des récipiendaires depuis sa création en 1907; je suis fier d'en faire partie a présent. Je suis d'autant plus heureux qu'il s'agisse d'une récompense canadienne – car comme vous le savez, mes… Continue reading →
Toronto, 25 November 2013 — The University of Toronto's Trinity College held a special convocation this evening, to bestow upon Mawlana Hazar Imam the degree of Doctor of Sacred Letters, honoris causa.
In a glowing citation, the Right Honorable Adrienne Clarkson, an alumna and Honorary Fellow of the College, presented Mawlana Hazar Imam before the Honourable William C. Graham, Chancellor of Trinity College, and the convocation.
"We are welcoming you into a place that combines the sacred with the secular with educational values that have seen its graduates take their place in the modern world and in Canada in a meaningful and committed fashion," said Madame Clarkson in her address.… Continue reading →
It is my great honor and pleasure to present, on his birthday anniversary which falls on November 2nd, the gems from our beloved 48th Imam Mowlana Sultan Mahomed Shah Aga Khan III, a collage of his wonderful words of wisdom.  His life has been a great legacy for humanity.
Here are Mowlana Hazar Imam's words for him:
"Many  many memories come to our minds as we think of him. He achieved in his life, for our community, that which could only have been accomplished normally in a period of many generations. The tributes that the world has paid him bear honest testimony to his great life and work."

 – His Highness the Aga Khan, Takht Nashini, Karachi, January 23, 1958
Imamat Speeches, Interviews and Writing featured at Nanowisdoms. Please also visit the theme lists with the Extended and Short Quotes at bottom of this list.