Life – An Exalted Destiny – Aga Khan III
Mowlana Hazar Imam's 78th Birthday – Khushiali Mubarak! Salgirah Mubarak! (Birthday Blessings!) – December 13, 2014
"The existence of a spiritual guide is like a ladder leading towards God and how can an arrow fly in speed towards its destination without the bow? — Rumi
| | |
| --- | --- |
| Event | The Shia Imam's Birthday – Descendant of Prophet Muhammad (pbuh) |
| What | The Holy Imam, His Highness the Aga Khan's Birthday Celebrations – Khushiali Mubarak! Salgirah Mubarak! (Birthday Blessings!) |
| Why | The birthday of the Imam of the Time of the Shia Ismaili Muslims is celebrated to honor his service to God in spreading peace and understanding amongst his community and the peoples of the world. This tradition has continued for over 1400 years since the time of Hazrat Ali (a.s. on whom be peace) the… Continue reading |
His name was Muhammad Sultan, also known as Sir Sultan Mahomed Shah, the Aga Khan, G.C.S.I., G.C.I.E., G.C.V.O., G.C.M.G., LL.D., was born at Honeymoon Lodge in Karachi on Friday, the 25th Shawal, 1294/ November 2, 1877 at 5:30 pm. When the news of his birth was routed to the Aga Khan I in Bombay, he said: "Name him Muhammad Sultan. He would be a Sultan (emperor) in the world. His period would see wonderful events, and would earn distinguished position in the world."
Sultan Mahomed Shah, Aga Khan III, was the 48th Imam of the Shia Ismaili Muslims. He was one of the founders and the first president of the All-India Muslim League, and served as President of the League of Nations from 1937-38.
He grew up under the subtle… Continue reading →
Layla tul Qadr – The Night of Power and Destiny | Ismaili Web Amaana.
On this blessed Night of Power, on Saturday July 19, 2014, Ramadan 23, 1435, let us strive to earn the Grace of our Lord and receive the Baraqah (blessings) to receive the Light and the Peace, Ameen, so we can know ourselves and know our Lord! This Maarifa – spiritual knowledge, gnosis, is the goal of every believer and we have a Living Guide to help us!
On the Night of Power, power belongs to us
So long as the form of the Beloved's image is with us,
for us the whole of life is a joyful parade.
Where friends unite together, there in the midst of the house,
by Allah, is a spreading plain;… Continue reading →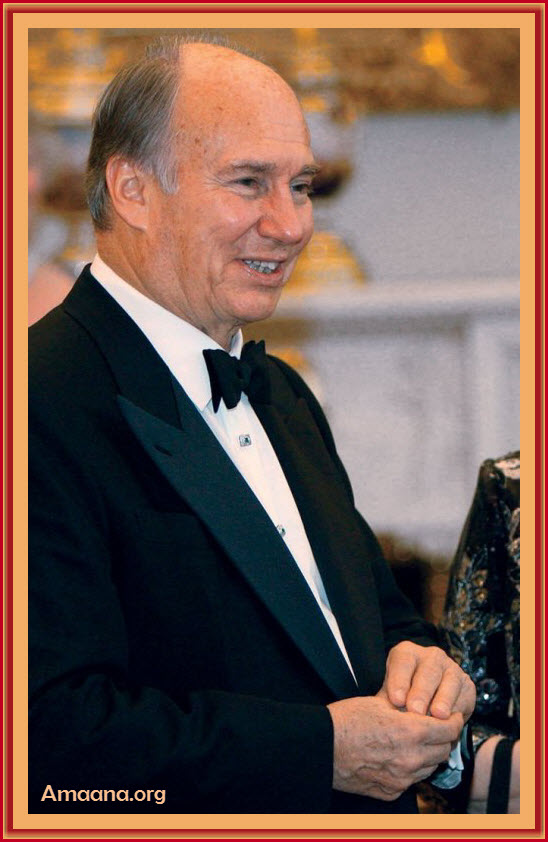 Imamat Day 2014: Imamat Day – The Shia Imam's Rope of 57 years of Imamat as the a Direct Descendent of Prophet Muhammad (pbuh)
July is the 7th month, 49th Imam is 7 times 7. It's been 7 years since the Golden Jubilee. This is the 57th anniversary of Imamat Day. He became an Imam in 1957!
2014 – 14 is 7 times 2. This picture was taken on July 7th when Queen Elizabeth II hosted a dinner at Buckingham Palace to mark the Golden Jubilee of Prince Karim Aga Khan IV, July 7, 2008. There is lot of symbolism of the number 7 and celestial significance of this anniversary as it is 7-11 and I am sure our readers will come up with more! Please use comments below to… Continue reading →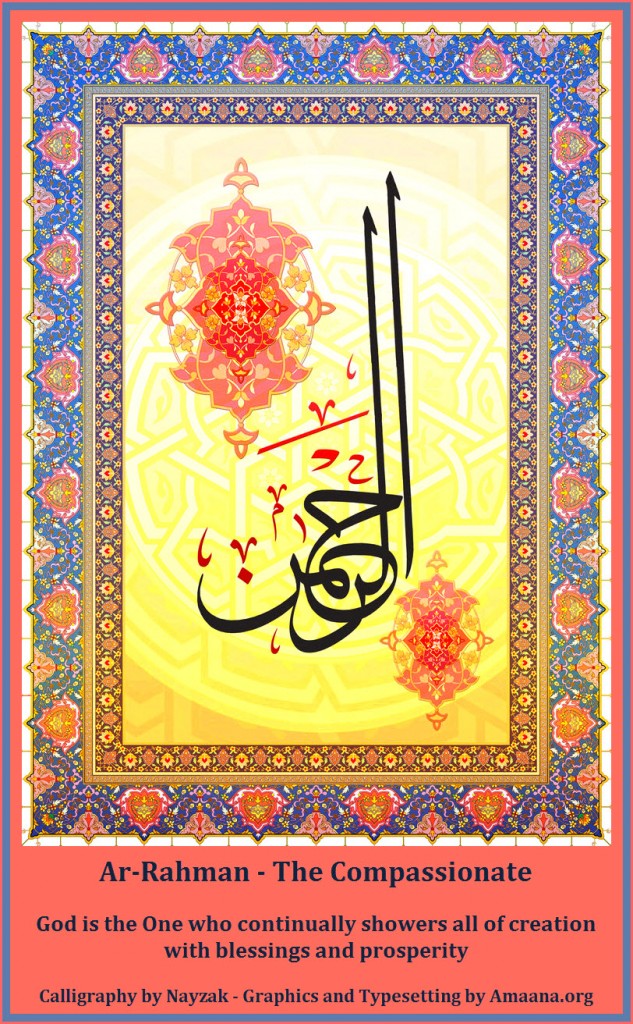 The Phenomenology of Islam Lecture 1
JALAL and JAMAL
Introduction by Katherine Schimmel
In my right hand I hold a small, square, black metal box. It is very dusty now from years of non-use and looks nothing like the sleek recorders of today. But this tape recorder and I have a shared history. It is the same voice recorder that I used in Egypt almost twenty years ago on the hot, noisy streets of Cairo while conducting graduate field research there. Later, it was the faithful instrument I used to playback what amounted to hours and hours of Arabic interviews once I arrived back in Cambridge to write my thesis. I turn the small device over and over again in my hands, examining it from all sides, its well-worn buttons,… Continue reading →
Interview – The Forgotten Children of Abraham
by Katherine Schimmel Baki
Calligraphy above — Quran 16:125
ادْعُ إِلَىٰ سَبِيلِ رَبِّكَ بِالْحِكْمَةِ وَالْمَوْعِظَةِ الْحَسَنَةِ ۖ وَجَادِلْهُم بِالَّتِي هِيَ أَحْسَنُ
Invite (everyone) to the Way of thy Lord with wisdom and beautiful preaching; and argue with them in ways that are best and most gracious.
Written in Naskh (green part) and Thuluth (black part) — by Nayzak — Amaana.org
"It is compulsory both in the West and the East to move beyond stereotypes and demonization, to educate the next generation to be global citizens who have a healthy respect for other cultures and religions." — John L. Esposito

John L. Esposito
There is the well-known Qur'anic verse: A goodly word is like a goodly tree (24:26, Yusuf Ali translation), which my late aunt, Annemarie… Continue reading →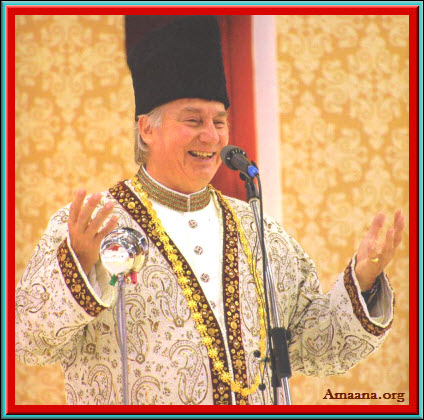 An ode for
Imam-e-Zaman
By Nadim Pabani – Inspired by the Navroz Spring.
An ode for Imam-e-Zaman we sing.
Seeing the birds outside take flight,
Line by line we begin to write.
So now we wish to begin this rhyme,
For the Master of the Age and Time
To glorify your Light that shines,
We are moved to write each line.
But how can human language
Begin to describe, begin to capture, begin to give justice to your greatness,
To quote the words of the Prophet, a Muslim void of love for Ali is faithless.
But this Murid will try his very best,
To help others realise that you are the Light of the East and West,
You refrain from seeking worldly might,
Even though, this is your… Continue reading →
THE ISMAILI SOCIETY
ISMAILI TEXTS AND TRANSLATIONS SERIES, NO. 4
ON THE
RECOGNITION OF THE IMAM
(Fasl dar Bayan-I Shinakht-i Imam)
Translated from Persian by
W. IVANOW
---
TABLE OF THE CONTENTS OF THE TEXT
1. The manifestation of the Imam and his Hujjat……1v.-2v.
2. The necessity of the propaganda (da'wat) in the time when the Imam is
hidden ….. 2v.-3
3. The fourfold knowledge about the Imam …..3-3v.
4. The Hujjat's and da'i's knowledge of the Imam …..3v.-4
5. The relations between the Imam and the Hujjat …..4-4v.
6. The manifestation of the Imam is essential to the existence of the world
…..4v.-6
7. Definition of the degree of the Hujjat …..6-6v.
8. The logical proofs of the necessity of the Hujjat …..6v.
9. The traditional proofs… Continue reading →
The Mystical Visions of Ibn al-'Arabî (d. 1240)
– Dr. Diana Steigerwald
California State University (Long Beach)
"Whatever may be the philosophical doctrine to which we adhere, we observe, as soon as we speculate on the origin and the cause, the anteriority and the presence of the Feminine."
– Excerpt from the Fusûs al-hikam of Ibn al-'Arabî
The 13th century, even though politically overshadowed by the invasion of the Mongols and the end of the 'Abbâsid caliphate, was also the golden age of Sufism. Known as Shaykh al-Akbar (the Greatest Shaykh), Muhyî al-Dîn Ibn al-'Arabî was one of the most famous representatives of esoteric mysticism at the beginning of the 13th century. He was born in Murcia (city in Spain) in 1165 and at the age… Continue reading →

Understanding the Quran
— Diana Steigerwald
California State University (Long Beach)
'I  believe  in  one  God,  and  Muhammad,  an Apostle  of  God'  is  the  simple  and  invariable profession of Islām. The intellectual image of the Deity has never been degraded by any visible idol; the honor of  the Prophet has never  transgressed the  measure  of  human  virtues;  and  his  living precepts  have  restrained  the  gratitude  of  his disciples within the bounds of reason and religion. (Gibbon  and al., 54)
There will come a time when nothing will remain of the Qur'ān but a set of rituals. And nothing will be more common than attributing falsities to God and the Prophet. — 'Alī Ibn Abī Tālib
The Qur'ān contains a powerful message which generates a material and spiritual response. From its original… Continue reading →