Life – An Exalted Destiny – Aga Khan III
Layla tul Qadr falls on the 23rd of Ramadan and this is a significant event in Muslim history as not only did Prophet Muhammad (pbuh) receive his first revelation that culminated in the Holy Quran, but this day marks the anniversary of his Prophethood on earth. Muslims all over the world spend this night in prayers as it holds special Barakah for those in prayer.
"In the name of God, the Beneficent the Merciful
"Indeed We sent it [the Holy Quran] down on the Night of Power. What will convey to you what the Night of Power is? Better is the Night of Power than a thousand months. In that Night the angels and the Spirit descend by the permission of their Lord for every errand. Peace it… Continue reading →
 Ali is the Lord of those whose Lord I am!
The first Imam Hazrat Ali was appointed as as his successor by Prophet Muhammad at Ghadir e Khumm when he declared: He of whomever I am the Master, Lord – Mowla, Ali is his Master, Lord – Mowla! Imam Ali plays a pivotal role in the spiritual lives of his followers as do his successors and we are blessed to be led by the 49th Imam! Alhamdulillah!

"Man Kunto Mowla", a part of a famous statement of the Seal of Prophet, upon him be peace, which is, "Man kunto Mowla, fa Ali-yun Mowla" – meaning 'Whoever accepts me as master, Ali is his master'.
Amir Khusru is one of the iconic figures in the cultural history of the Indian… Continue reading →
The holy month of Ramadan begins on the first day of Ramadan which is the ninth month of the
Islamic lunar calendar
. This year it starts on July 8, 2013. After 30 days or so, dependent on the sighting of the moon, the end of the fasting month is celebrated by Eid where the devout celebrate after having completed the month of fasting successfully starting with the morning prayers after which greetings are exchanged children are given an Eidi, a gift of money followed great rejoicing and feasting and picnics.
The great Muslim poet Jalal al-Din Muhammad Rumi's Ramadan poems 13th century AD:
"O moon-faced Beloved,
the month of Ramadan has arrived.
Cover the table
and open the path of praise."
"The month of fasting has come,… Continue reading →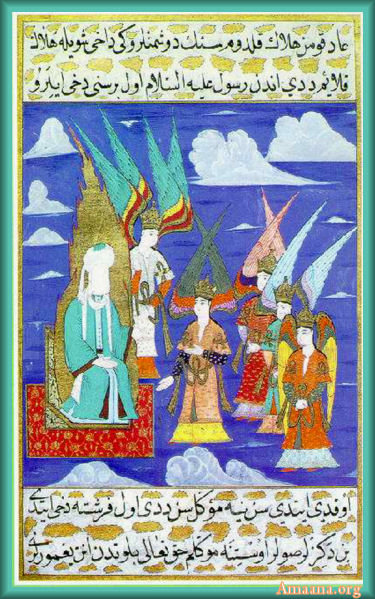 Prophet Muhammad Collection on the Ismaili Web
As the Ismaili Web has grown during the past twenty years, the material I have gathered on our beloved Prophet Muhammad (pbuh) has been spread over many pages. I decided to create this page to portray all the files in one place for Milad Day. Hope this is useful. "And We have not sent you except as a Mercy to Mankind" – Sura Al-Anbiyah 21:107
Salwaat – Blessings and Greetings of Peace
"Verily Allah sends blessings upon the prophet, and his angels ask Allah to bless him. Oh you who have believed ask Allah to send blessings upon him and greet him with peace" – Sura Al-Ahzab 33:56
Salwaat Audio (download .wav file)
Seerat Conference in Honor of Prophet Muhammad
In the Presidential… Continue reading →
Miraj – Spiritual or Corporeal
By Mumtaz Ali Tajddin S. Ali
Editor's Note: Miraj is observed on 27 Rajab. Please follow link for Calendar Converter in the horizontal menu above under Muslim Holidays.
The word miraj is derived from uruj means to ascend. The Koran (70:4) says, "To Him ascend the angels and soul" (taruljul malaikatu war'ruhi ilaihi), and in 97:4: "Angels and soul (from Him) descend (tanz'zalul malaikatu wa'ruhi), and also in 70:3:  "Lord of the ways of ascent" (minal'lahi zil ma'arij).
The miraj refers to the heavenly ascension of the Prophet. The Koran says, "Glory be to Him Who made His servant to go on a night from the sacred mosque to the remote mosque of which We have blessed the… Continue reading →
Navroz Mubarak! Eid Mubarak! Eid-e Shoma Mobarak!
Sultan Newruz – Imam Hazrat Ali's Solar Birthday Anniversary! Norouz Nawruz Norooz – New Year Blessings! March 21, 2013
Shah Abbas I receiving Vali Muhammad Khan of Bukhara, Chehel Sotun, Isfahan (c.1657)
Cele-
bration

Navroz – New Year, birthday of Imam Hazrat Ali, Newruz Sultan

What

A cross-cultural celebration of the New Year, the first day of the Spring astrological Equinox, solar birthday anniversary of our Imam Ali hence the name Nevruz Sultan, in Turkey Nauruz-i Sultani.

"It was on Navroz that Adam was created, that God made a covenant with the souls, that Abraham destroyed the pagan idols, that the Prophet of Islam received first revelation, that the Prophet took Ali on his shoulders to smash 360 idols in Mecca, and… Continue reading
Now hath come unto you An Apostle from amongst Yourselves; it grieves him that you should perish; Ardently anxious is he over you: to the believers is he the most kind and merciful. Sura 9-128
By Prof. K. S. Ramakrishna Rao
Head of the Department of Philosophy,
Government College for Women University of Mysore, Mandya-571401 (Karnatika).

Re-printed from "Islam and Modern age", Hydrabad, March 1978
Editor's note: Author of this article is a non-Muslim. Enjoy!

In the desert of Arabia was Mohammad born, according to Muslim historians, on April 20, 571. The name means highly praised. He is to me the greatest mind among all the sons of Arabia. He means so much more than all the poets and kings that preceded him… Continue reading →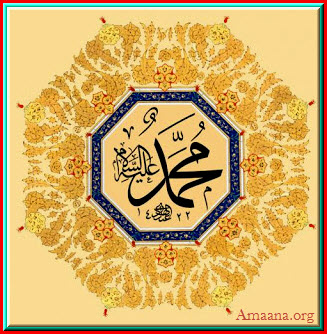 Birthday of Prophet Muhammad
By Amir Gulamhusein
In the Presidential Address given at the International Seerat Conference held in Karachi, Pakistan on 12th March 1976, Mawlana Hazar Imam (s.a.) said:
In the face of this changing world, which was once a universe to us and is now no more than an overcrowded island, confronted with a fundamental challenge to our understanding of time, surrounded by a foreign fleet of cultural and ideological ships which have broken loose, I ask, do we have a clear, firm and precise understanding of what Muslim Society is to be in times to come? And if, as I believe, the answer is uncertain, where else can we search than in the Holy Qur'an, and in the example of Allah's last and final Prophet?"
The Seerat… Continue reading →
Mowlana Hazar Imam's 76th Birthday – Khushiali Mubarak! Salgirah Mubarak! (Birthday Blessings!) — December 13, 2012
His Highness the Aga Khan Mowlana Hazar Imam – Spiritual Leader of Shia Ismaili Muslims
The first Imam Hazrat Ali was appointed as as his successor by Prophet Muhammad at Ghadir e Khumm when he declared:
He of whomever I am the Master-Lord Mowla, Ali is his Master-Lord Mowla! Imam Ali plays a pivotal role in the spiritual lives of his followers as do his successors and we are blessed to be led by the 49th Imam!

Video and Audio Files of this declaration:
Haq Ali Mowla Ali Ali Manaqib by Nusrat Fateh Ali Khan
Man kunto Mowla Ali Mowla Manaqib by Nusrat Fateh Ali Khan – my favorite – First ever Qawwali composed by… Continue reading