Life – An Exalted Destiny – Aga Khan III
His name was Muhammad Sultan, also known as Sir Sultan Mahomed Shah, the Aga Khan, G.C.S.I., G.C.I.E., G.C.V.O., G.C.M.G., LL.D., was born at Honeymoon Lodge in Karachi on Friday, the 25th Shawal, 1294/ November 2, 1877 at 5:30 pm. When the news of his birth was routed to the Aga Khan I in Bombay, he said: "Name him Muhammad Sultan. He would be a Sultan (emperor) in the world. His period would see wonderful events, and would earn distinguished position in the world."
Sultan Mahomed Shah, Aga Khan III, was the 48th Imam of the Shia Ismaili Muslims. He was one of the founders and the first president of the All-India Muslim League, and served as President of the League of Nations from 1937-38.
He grew up under the subtle… Continue reading →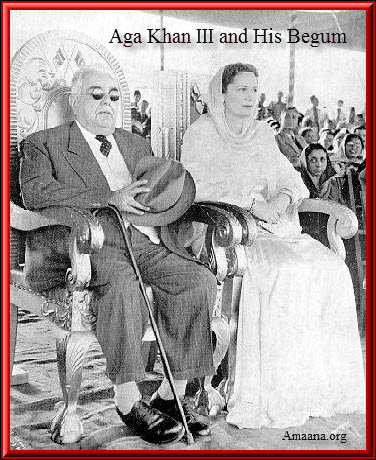 48th Imam – Direct descendant of Prophet Muhammad (pbuh)
It is my great honor and pleasure to present, on his birthday anniversary which falls on November 2nd, the gems from our beloved 48th Imam Mowlana Sultan Mahomed Shah Aga Khan III, a collage of his wonderful words of wisdom.  His life has been a great legacy for humanity.
His Highness the Aga Khan — Mowlana Hazar Imam, pays tribute to his grandfather:
"Many  many memories come to our minds as we think of him. He achieved in his life, for our community, that which could only have been accomplished normally in a period of many generations. The tributes that the world has paid him bear honest testimony to his great life and work." – Takht Nashini, Karachi, January 23, 1958… Continue reading →
Mowlana Hazar Imam and Steven Harper to inaugurate Ismaili Centre and Museum on September 12, 2014
City News Toronto: Videographer Audra Brown takes a tour of the Aga Khan Museum, a new building in Toronto celebrating Islamic art and culture.
http://www.citynews.ca/2014/09/10/aga-khan-museum-set-to-open-next-week/
https://www.facebook.com/citynewstoronto/posts/10152274109281175
http://www.680news.com/2014/09/10/aga-khan-museum-set-to-open-next-week/
TheIsmaili.org
His Highness the Aga Khan and Canadian Prime Minister Stephen Harper will preside over the opening of the Aga Khan Museum and the Ismaili Centre, Toronto on Friday, 12 September. The occasion will be marked by two separate ceremonies.
Full coverage will be provided on TheIsmaili.org, including a 
live webcast
 of both opening ceremonies. The webcast is expected to start at 2:00 pm EDT (Toronto time).
Watch the webcast live at TheIsmaili.org/live.
Aga Khan's gift to Canada | The Art Newspaper
Riches of Islamic art and science to… Continue reading →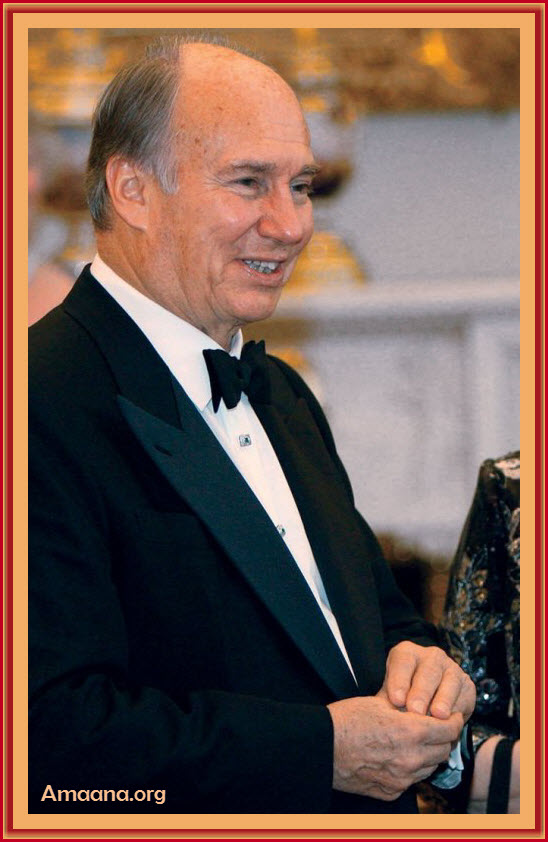 Imamat Day 2014: Imamat Day – The Shia Imam's Rope of 57 years of Imamat as the a Direct Descendent of Prophet Muhammad (pbuh)
July is the 7th month, 49th Imam is 7 times 7. It's been 7 years since the Golden Jubilee. This is the 57th anniversary of Imamat Day. He became an Imam in 1957!
2014 – 14 is 7 times 2. This picture was taken on July 7th when Queen Elizabeth II hosted a dinner at Buckingham Palace to mark the Golden Jubilee of Prince Karim Aga Khan IV, July 7, 2008. There is lot of symbolism of the number 7 and celestial significance of this anniversary as it is 7-11 and I am sure our readers will come up with more! Please use comments below to… Continue reading →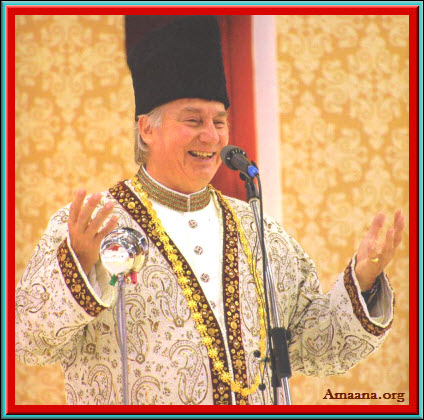 An ode for
Imam-e-Zaman
By Nadim Pabani – Inspired by the Navroz Spring.
An ode for Imam-e-Zaman we sing.
Seeing the birds outside take flight,
Line by line we begin to write.
So now we wish to begin this rhyme,
For the Master of the Age and Time
To glorify your Light that shines,
We are moved to write each line.
But how can human language
Begin to describe, begin to capture, begin to give justice to your greatness,
To quote the words of the Prophet, a Muslim void of love for Ali is faithless.
But this Murid will try his very best,
To help others realise that you are the Light of the East and West,
You refrain from seeking worldly might,
Even though, this is your… Continue reading →
Speech by His Highness The Aga Khan
New Delhi, India, March 26, 1980
ALL INDIA WOMEN'S CONFERENCE
As one of a few rather lonely males in such a distinguished, elegant and talented gathering of beautiful women, I find myself for once, and my family would readily confirm the rarity of the event, almost at a loss at what to say. I am not even very sure that I should be here at all. Like the Prime Minister, I too have never joined a woman's organization, but for different reasons.
It is most of all, perhaps, a privilege and a very personal pleasure for us once again to meet your Prime Minister, Mrs. Indira Gandhi. Her remarkable gifts of leadership are universally admired and India is fortunate indeed to have Mrs.… Continue reading →
Nowruz 2014 Marks the 20th Anniversary of Amaana.org — Alhamdulillah!
As you can read in the About section, I started the Ismaili Web in November 1993 and established the domain Amaana.org in March 1994. Since then I have been writing about the work of Mowlana Hazar Imam, His Highness the Aga Khan and twenty years later, here is a collage of all the articles. What is more amazing is that while I have just created articles of the events, the Imam has lived and worked these events and this presentation is in no way the full spectrum of his activities year-round, all over the world.
This Nowruz is a special event in many ways as you can read in my article in the link above on which day multiple world… Continue reading →
by 'Allamah Nasir al-din "Nasir" Hunza'i
Nawruz literally means the new day. This day means the day of the festival which is celebrated at the beginning of spring and the arrival of the new year, in which Aries faces the sun and from this day is counted the new solar year of the Egyptians and the Iranians. The Nawruz festival is among the oldest festivals of the world, and according to reliable reports, some important historical events and religious victories also happened on this day. Thus, it is narrated that approximately 4200 years ago it was on the occasion of the Nawruz festival that Hazrat Ibrahim broke the royal idols of Iraq and Hazrat Musa, in his time on the same day, gave a crushing defeat to the… Continue reading →
When students feel adrift, spiritual guidance might help
Emilio Morenatti/AP Photo
I think religion should be taught in college. I'm not talking about "religious studies," that is, the study of the phenomenon of religion. I'm talking about having imams, priests, pastors, rabbis, and other clerics teach the practice of their faiths. In college classrooms. To college students. For credit. I think religion should be taught in college because I believe it can help save floundering undergraduates. I'm not talking about "saving" them in Christian sense. I'm talking about teaching them how to live so they do not have to suffer an endless stream of miseries.
If you had asked me when I was a professor whether universities should teach… Continue reading →
 Partners in Pluralism: Why the Aga Khan loves Canada
The Aga Khan's love for Canada is the sort of love shared by two friends who always know what the other is thinking. Canada is a place that shares wholeheartedly the Aga Khan's vision for a global community built on the values of pluralism, education, and social action.
As the first religious leader to address Canada's Parliament, it was perhaps appropriate that the Aga Khan's parting words on 27 February were a verse from the Qur'an. The verse – which says that humankind was 'created from a single soul' – voices a sentiment the Aga Khan called the most 'beautiful expression about the unity of the human race' he knows.
The Aga Khan's respect for pluralism comes not only from… Continue reading →
The Aga Khan and Brown University President Christina Paxson in Conversation
PROVIDENCE — Speaking at Brown University on Monday, the Aga Khan — the spiritual leader for some 15 million Shia Ismaili Muslims worldwide — focused on the potential of social media and Internet-based technology to bridge cultural divisions.
But the 77-year-old Harvard graduate, whose appearance was part of the university's… Continue reading →
Aga Khan emphasizes collective responsibility, cracks jokes in talk on tradition and technology
By Caroline Kelly
Photo  – Brittany Comunale / Herald
There was room for both social media jokes and a thoughtful discussion of modern communication in Prince Karim Aga Khan IV's lecture yesterday.
Prince Karim Aga Khan IV '96 hon. P'95 said during a lecture Monday that the hardest part of speaking at Brown again since delivering the baccalaureate address in 1996 was "that you have to explain what you got wrong the first time." It was hard to imagine that the thorough, well-spoken 49th hereditary imam of Nizari Ismailism would be prone to carelessness.
But he insisted. "I think I actually underestimated what happened in the 18 years ahead," he said, acknowledging that back… Continue reading →

The 88th Stephen Ogden Lecture delivered by His Highness the Aga Khan at Brown University
View Video with Captions below, courtesy Brown University via Nanowisdoms.org
10 March 2014
Bismillah-ir-Rahman-ir-Rahim
President Paxson,
Ogden Family representatives,
Brown University Faculty, Students and Alumni,
Distinguished Guests,
Ladies and Gentlemen:
Thank you very much, Madame President, for your very kind introduction. It is a great honour for me to give the Ogden Lecture, to be included in the distinguished company of past Ogden Lecturers, and to pay tribute to the memory of Stephen Ogden.
I am also delighted to be present for the opening weekend of Brown's 250th Anniversary, or one might say, the happy conclusion of Brown's first quarter of a millennium!!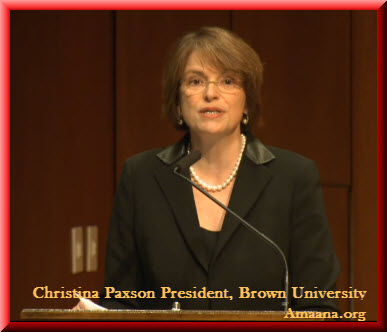 I have long felt a close sense of belonging… Continue reading →